Rock climbing is an inherently risky sport—even more so now that we are in the midst of a worldwide pandemic. How do you balance your stoke for climbing with minimizing health risks to yourself and your communities?
It's safe to say that many climbers are young and fit with no underlying health issues. Therefore, it's easy to surmise that rock climbers in general are at a lower risk of contracting coronavirus. The thing is, even healthy lower-risk folks can be asymptomatic carriers that could potentially spread the virus to higher-risk people in their households and communities. There's no question that the safest stance on rock climbing during the COVID-19 pandemic is to not climb during an outbreak.
What if rock climbing is your preferred method of maintaining fitness or blowing off steam? Keep exercising to maintain physical and mental health. Hiking, biking, and yoga are great alternatives to rock climbing. However, if you choose to climb during the pandemic, here are some tips to consider:
If you are stressed out about getting infected with COVID-19 white climbing, ease your mind and don't go.

Climbing outdoors is less risky than climbing indoors.

Know and follow the accessibility rules for your climbing destination.

Avoid popular climbing areas and peak times.

Choose sunny less-traveled routes.

Bouldering is better than roping up. Fewer shared surfaces (including gear) equals less risk.

Don't climb at your edge to lessen the risk of injury and potentially burden the already-stressed healthcare system—especially in smaller communities.

Liquid chalk with a high concentration of alcohol may be useful as a hand sanitizer between routes, but it must be reapplied often and does not replace the use of a mask.
Whether rock climbing or not, we should also follow the expert advice on protecting ourselves and others from COVID-19 as issued from the Centers for Disease Control and Prevention and the World Health Organization.
Avoid crowded places.

Cover your mouth and nose with a mask when around others.

Don't touch your face.

Maintain a social distance of at least six feet.

Wash hands thoroughly and often.

Clean and disinfect shared surfaces.

Self-isolate if you are sick or suspect you have been in close proximity to anyone with coronavirus or coronavirus symptoms.
Finally, our friends at Access Fund have put together this handy infographic.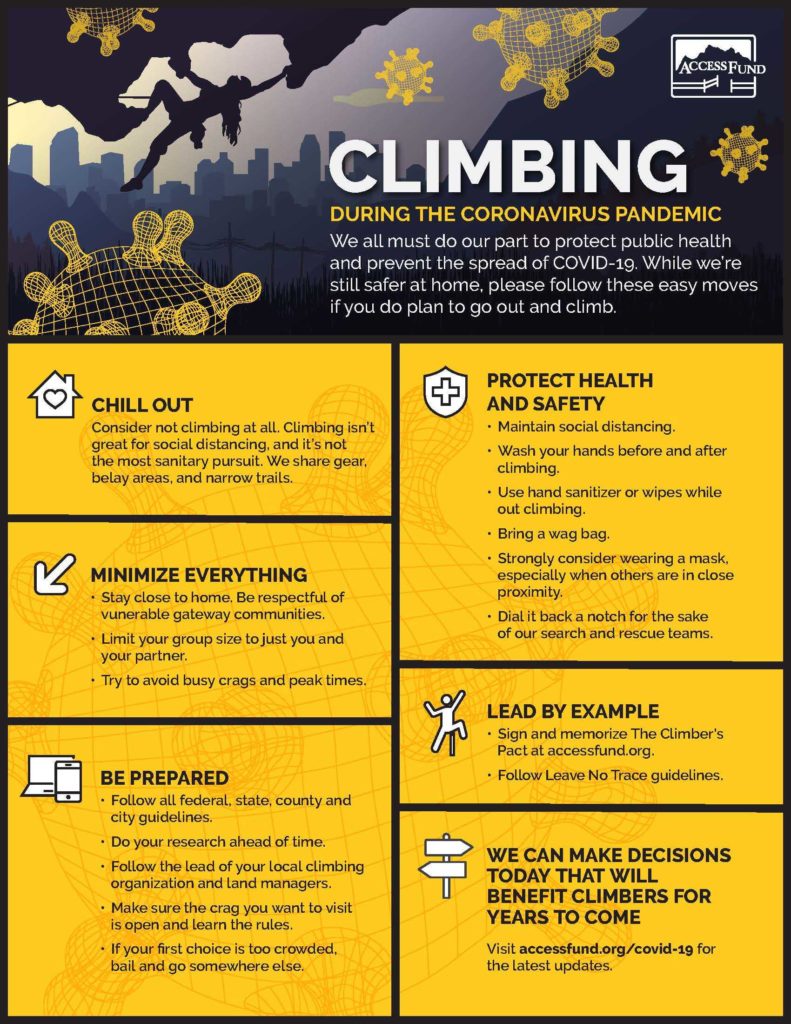 Stay safe and be well.
References:
https://www.outdoorresearch.com/blog/article/ask-the-expert-climbing-during-covid
https://rockandice.com/climbing-news/a-guide-to-climbing-during-the-coronavirus-pandemic/
https://climbingwallindustry.org/page/Coronavirus
https://www.commonclimber.com/avoid-covid.html
https://www.cdc.gov/coronavirus/2019-ncov/faq.html
https://www.who.int/emergencies/diseases/novel-coronavirus-2019
https://www.climbing.com/news/researchers-prove-80-percent-alcohol-liquid-chalk-kills-coronavirus-on-surfaces/
https://www.accessfund.org/open-gate-blog/climbing-during-the-coronavirus-pandemic