Your little climber is prepping for big heights and needs the right gear to keep them safe and secure on their vertical journey.
The climbing gym is a safe first bet to try out the exhilarating sport of rock climbing.
After you and your child have tapped out all the indoor fun, it's time to bring the excitement outdoors.
Before you fill your shopping cart, test out the different harness styles and shoe sizes in your local rock gym's inventory.
Not only will this help you make the right buying choices for your child, but it could also save you money.
A majority of rock climbing gyms offer pro deals to members, allowing their members to purchase rock gear at close to wholesale prices. 
The Essentials
Children's climbing gear varies on weight, height, body figure, skill level, and personal comfort. 
Before you set out on the road, invest in the essential rock climbing gear for kids:
Rock Climbing Gear for Kids: Harness Selection
Used for: Any climbing outside of bouldering, tying into ropes, reaching a height above 10 feet
The best climbing harness for your child is one that keeps them safe and that they feel comfortable wearing.
If you don't feel comfortable choosing the best harness for your kid by yourself, consult with your local climbing instructor or rock gym for advice on sizing.
There are three types of children's harnesses: sit-in, full-body, and separate. Why?
Well, children experience climbing differently than adults. There are three key factors:
Children are unable to remain upright when they fall, causing them to dangle upside down.

Kids don't have the defined hips that adults do, and defined hips keep adult climbers safely in their harness when falling. 

Kid harnesses have a higher tie-in point, meaning that the force of a fall will be dispersed differently than the normal climbing harnesses.


As they are lowered off the wall, the chances of them flipping in a full-body harness are significantly lower. 
Should I use a full-body or a regular climbing harness for my kid?
Before you buy, always try.
Climbing brands have unique measurements for their harness variations. Consult their sizing chart for measurements on leg loops, shoulder straps, waist sizing, and weight requirements.
| | |
| --- | --- |
| Full-Body Harness Requirements | Sit/Normal Harness Requirements |
| Up to 80 lbs./40 kg on average | 10 years or older |
| 5–10 years old | Pronounced hips |
| Added layer of security | 80 lbs./40 kg + |
In addition to the posted requirements, ensure your child feels comfortable in their harness. Is the harness padded well? Are the straps easily adjustable for sizing? 
Some children prefer the full-body harnesses to the sit-in harnesses for the extra support on rests. Kids can lean back and relax on the wall without fear of inversion.
For the best of both worlds, consider buying separates like Petzl's sit harness that is easily paired with the shoulder modifier.

Petzl Macchu Sit Harness – Kids
Need an expert opinion? Check out the RCW gear review for the best rock climbing gear for kids. 
Rock Climbing Gear for Kids: Shoe Selection
Used for: Extra non-slip grip on indoor/outdoor surfaces and to keep your children's feet protected
A bulk of climbers purchase footwear before any other gear. It's the most personal climbing gear component, simply because you spend the most time in them.
Understanding how your shoes mold to your feet allows you to make more challenging moves on the rock face.
If your child has been climbing for a while, chances are they'll want more aggressive climbing shoes.
Newer climbers should stick to passive shoes with a flat surface and less toe-curl.
Your little climber might want to ditch the shoes to climb barefoot, but we recommend keeping the feet protected.
You'll avoid abrasions and scratches by tossing on a pair of sticky-bottom, suede climbing shoes. 
Chances are, your child will outgrow 2 or 3 pairs of climbing shoes before they'll outgrow their climbing harness. It's totally normal. 
Most climbing shoes fetch a price tag of $50 or under (without your gym's discount codes applied).
Save the aggressive lace-ups for competitions and snag a pair of velcro-closing rock shoes.
For ordering online, size up a full size or size and a half from their normal shoe size.
If the shoes don't fit as snug as they'd like, bulky socks will fill the difference.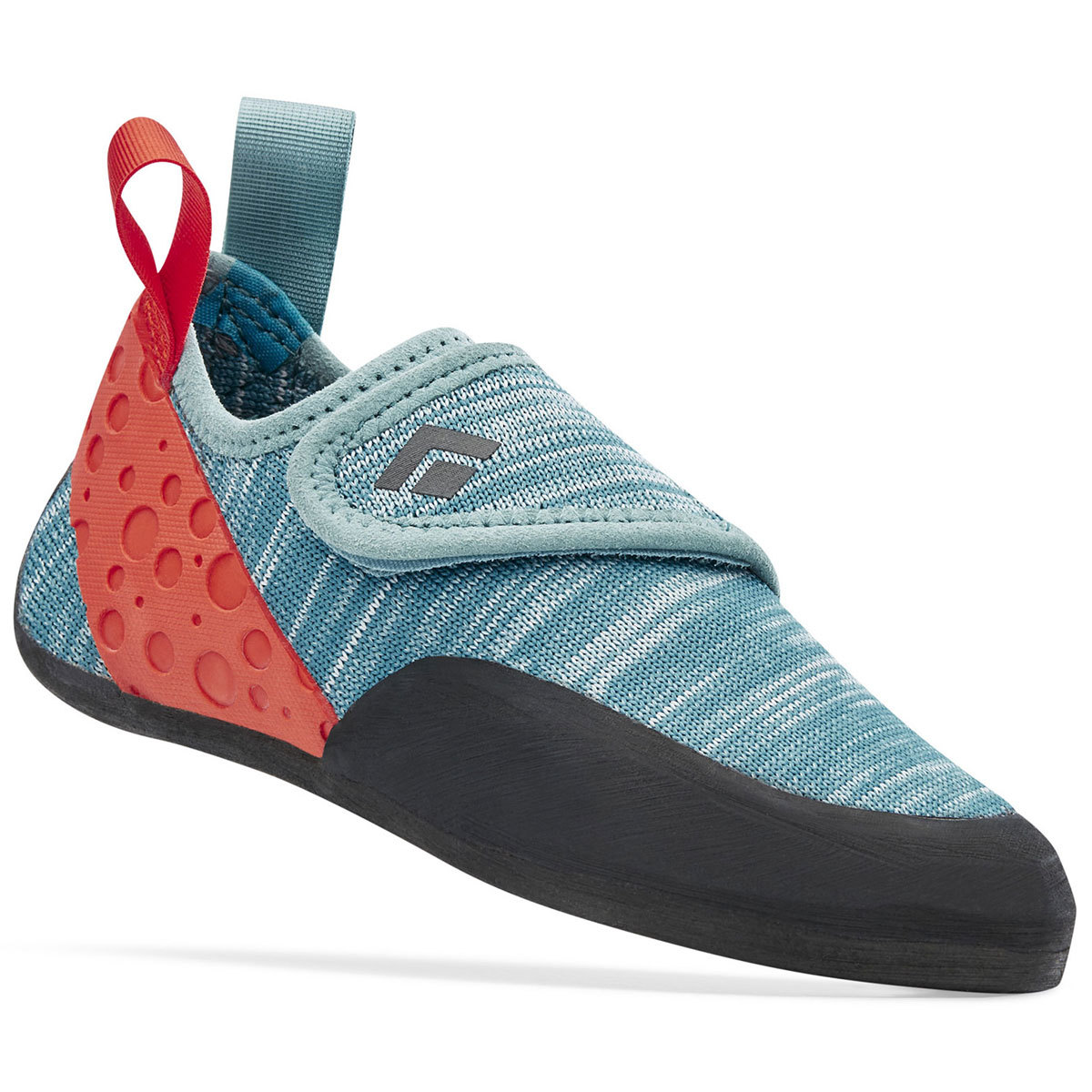 Black Diamond Kids' Momentum Climbing Shoes
Rock Climbing Gear for Kids: Chalk Bags + Chalk
Used for: Sweaty hands to minimize oils and allow your little climber to grasp handholds easily 
Every climber loves a unique chalk bag. You don't have a ton of options to personalize your harnesses and shoes, but chalk bags? Go crazy.
You can personalize chalk bags on Etsy, design your own online, or buy a funny one from your nearby rock climbing gear shop.
We especially love the 8B-Plus line of monster chalk bags. They're cute, lightweight, and fun for all climbers.
Does the type of chalk matter?
In reality, most new climbers can't stop the difference between the chalk brands.
Chalk is consistency-based. Climbers can purchase finely processed chalk, similar to sand; rocky chalk, with chunks of chalk pressed together; or chalk balls, recommended most for small children. 
Chalk balls are ideal for kids since the cloth ball encloses the chalk particles. There's less of a mess, and your child will get the right amount of coverage every time. 
Don't worry if they accidentally ingest any powder; climbing chalk is non-toxic.
Rock Climbing Gear for Kids: Climbing Helmet
Fin, noggin, duuuuude!
Crush from Finding Nemo knows all about bumping heads, and you definitely don't want your child to collide head-on with the rock face.
A properly fitting helmet is a worthwhile investment for the long haul. Children will love them too; with their wide range of funny designs, there's a fashion statement for any kid and any crag.
Before you choose a climbing helmet, answer these questions:
How heavy is it? Will it be too hefty for tiny necks?

Is it durable?

Does it breathe well? It can get hot on the climbing wall.

Is it washable? Check if your purchase offers removable padding to avoid bacteria and sweat accumulation.
Rock Climbing Gear for Kids: Durable Apparel
No matter how hot it is, never climb in shorts. 
The odds are 100% that your child will hit their knees on the rock wall, and they should be protected. Climbing pants are breathable and light while also providing no-tear protection from rugged routes.
Look for descriptions including keywords, such as: ripstop, quick-dry, and friction-resistant.
Don't forget sunglasses to combat glare and falling sand. 
You're All Set!
Now you have all the necessary gear to manage your child's initial rock climbing experience without error.
You have the correct rock climbing harness for their measurements, a proper helmet for falling debris, sticky climbing shoes that would make Spiderman jealous, and a fun chalk bag that makes your little climber stand out.
You're ready! Belay is on.

McKenzi Taylor founded Rock Climbing Women in 2013 after moving to a new city as a new climber seeking more climbing partners (and new friends!). Since her first taste of climbing in Spearfish Canyon, SD, McKenzi has been at the rock face seeking and sharing the thrill of climbing. She credits the support of a consistent climbing partner and community as the motivation to continue developing her skill, whether it's trad, sport climbing or bouldering. A full-time business owner and mother, McKenzi's on a mission to get her kids outside and learning to adventure alongside her.