Are you having a hard time looking for the perfect gift for someone in your life who is a climber? Or are you looking for the best item suitable for people buying on a tight budget?
Perhaps you are not a climber yourself but want to show your love or appreciation to a climber friend by giving them something they could use.
Maybe you are a climber looking for new things you can use for your next climb.
Well, there is no need to worry anymore. You have come to the right place.
Rock Climbing Women listed down 35 of the best gifts for rock climbers.
Explore the list below and see if you can find anything you or your climber friend will love.
Generally, these items are under $50, though there may be a few things that exceed that price included because they are some things we cannot live without.
So, read on and see if you find anything that will be right for you or your friend.
Note that these items are based on personal experience, advice from our ambassadors, or are results of our research. There may also be some affiliate links.
GEAR GIFTS FOR ROCK CLIMBERS
1. Petz Tikka Headlight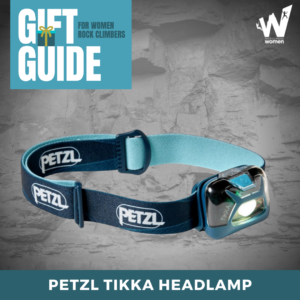 Why we love it: This headlamp has a comfortable and adjustable fit. It has three lighting levels, depending on the level of brightness needed. It also has a red lighting option that helps with night vision.
Buy on REI.
2. Cyclops 10 Watt LED Rechargeable Spotlight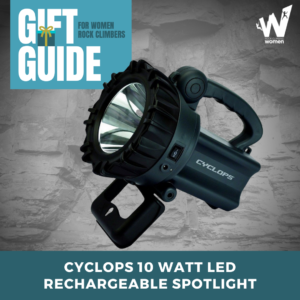 Why we love it: This rechargeable device offers spotlight with a high beam. It has a burn time of one hour for high settings and three hours for low settings. It is dual rechargeable, which means it can be charged with an AC/DC charger or a 12V DC car plug adapter.
Buy on Backwoods.
3. HME Products Hand Warmer Portable Power Device with LED Flashlight
Why we love it: It is a portable charger for mobile devices, with up to five hours of run time. At the same time, it can be used as a hand warmer as it can reach up to 110 to 118 Fahrenheit. It also has a LED torchlight.
Buy on Optics Planet.
4. Black Diamond Mojo Zip Chalk Bag
Why we love it: This chalk bag has a zippered pocket where you can put your valuables while rock climbing. It is made from durable nylon. It also has a drawcord closure that helps keep chalk stay safe inside.
Buy on Back Country.
5. Petzl Spatha Knife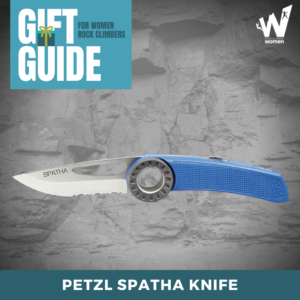 Why we love it: This is an all-around tool great for emergencies. It can cut through ropes and cordellette. For safety, the knife has a locking mechanism.
Buy on Back Country.
6. Metolius Rock Rings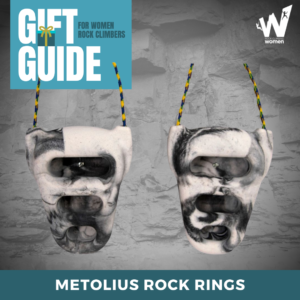 Why we love it: These are high-quality workout tools. They are portable, so you can bring them with you all the time. They are great for training, whether you are at home or outside.
Buy on Moosejaw.
7. Klean Kanteen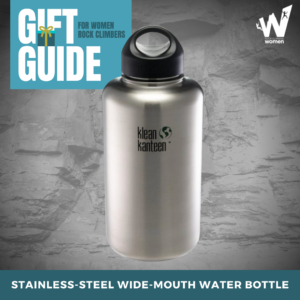 Why we love it: It can keep your water cool as you go on your rock climbing adventure in the summer. It can also keep your tea hot during the winter season. It can hold 64 fl. oz. and is made of stainless steel.
Buy on REI.
8. Metolius Insulated Belay Glove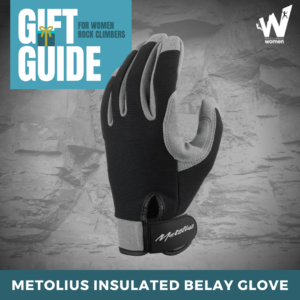 Why we love it: These gloves help prevent the rope from irritating the hands, they are durable and light, and they can keep hands warm when the weather is cold.
Buy on Moosejaw.
9. Crush Vision Belay Glasses

Why we love it: These are lightweight, durable, and scratch resistant. They also do wonders to prevent neck pain for belayers.
Buy on Amazon.
10. Petzl Reverso Belay Device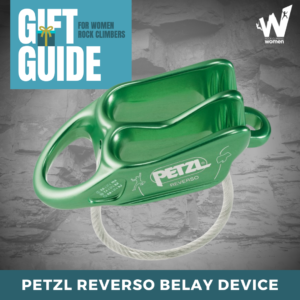 Why we love it: This is a multifunctional belay/rappel device. It can be used by one or two climbers, and it is lightweight and durable enough to support mountaineering or even multi-pitch climbing.
Buy on REI.
11. Kong Panic System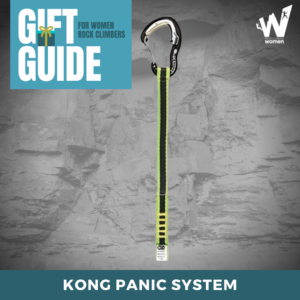 Why we love it: This unique draw is equipped with a system that keeps the carabiner open until it comes in contact with a bolt, when it releases the gate. The carabiner also closes automatically at that point.
Buy on Amazon.
12. TRANGO Cord Trapper Rope Tarp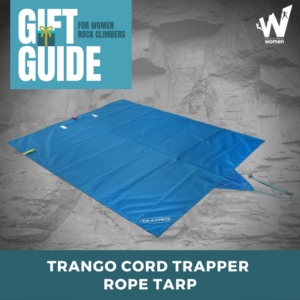 Why we love it: The cord trapper works like a rope bag. It keeps ropes clean and tangle-free, it is simple, and it reduces weight and bulk. It is also a cheaper alternative to traditional rope bags.
Buy on Optics Planet.
13. Rugged Phone Lanyard Holder with Coiled Strap Tether and Gated Carabiner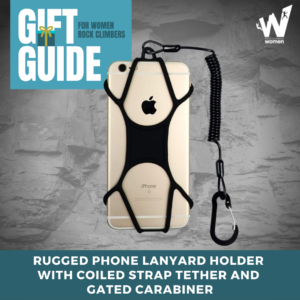 Why we love it: This is a great tool for outdoor activities like hiking and climbing. Compatible with most mobile phones, it keeps phones secure and accessible while enjoying the outdoors. It has a high-tension coiled leash that extends from 8 to 42 inches.
Buy on Amazon.
14. Mad Rock Super Tech Screwgate Locking Carabiner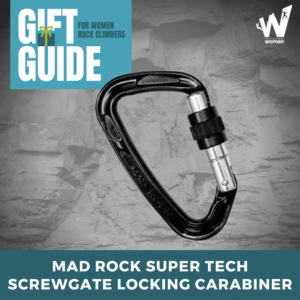 Why we love it: This is a tool suitable for climbers and mountaineers. It is made from aluminum, and it includes a locking gate that will ensure safe ascent and descent.
Buy on Optics Planet.
15. Black Diamond Crag Gloves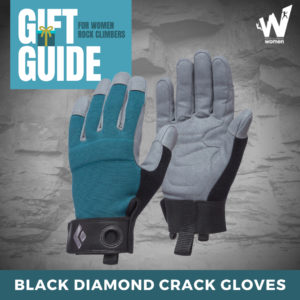 Why we love it: High-quality, trusted protection without a compromise on dexterity. These gloves are crag powerhouses. Hands are able to breathe freely while climbing and knuckles stay protected by thick, reinforced materials. 
Buy on Black Diamond. 
16. Prusik Cord Set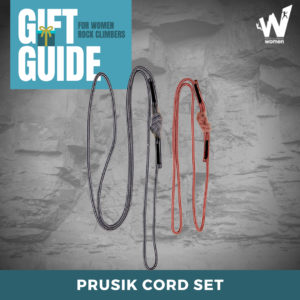 Why we love it: A personal anchor system (PAS) is a safe and strong way to attach a climber to an anchor on a climbing route so that they can take down equipment they put in without risking serious bodily harm. Using a Personal Anchoring System (PAS) is safer than just a sling, and every climber can use one.
Buy on Metolius.
PREP AND RECOVERY GIFTS FOR ROCK CLIMBERS
17. Shoe Deodorizer and Disinfectant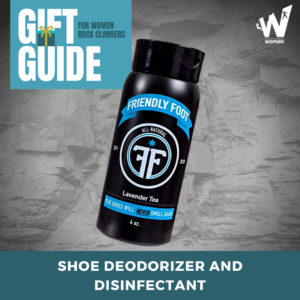 Why we love it: Stinky feet, be gone! After a rigorous gym or outdoor climbing session, all climbing shoes start smelling. Sure, a climber can take an hour or so to detail them and wash them softly, or… they can toss some disinfectant and deodorizer in them and get them smelling fresher than the day they were purchased! (Well, almost).
Buy on Amazon. 
18. Multi-Pinch Block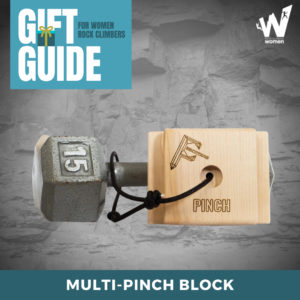 Why we love it: All climbers want to boost their grip strength and this is an excellent, in-home way to do so. This pinch block focuses on building strength in the forearms and the thumbs. Usually the thumbs are forgotten about in climbing training, so this would be a pleasant surprise for any rock-lover in your life.
Buy on Frictitious Climbing.
19. RHINO Skin Solutions Dry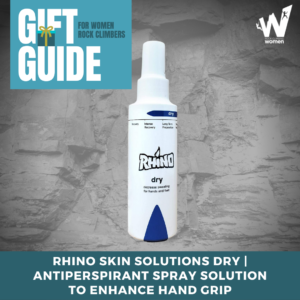 Why we love it: This antiperspirant spray solution can help enhance your hand grip. It can be used for various activities, including climbing.
Buy on Amazon.
20. Metolius Super Chalk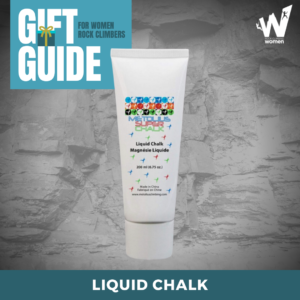 Why we love it: This liquid chalk can help keep hands dry while going through tough routes. It is best for indoor climbing and training board sessions.
Buy on REI.
21. Climbskin Double-Sided Hand and Finger File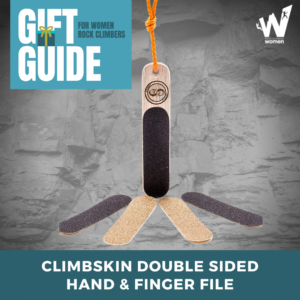 Why we love it: It is pocket-sized, making it easy to bring anywhere. This handmade file is best for keeping the skin in its best condition. The sandpapers are replaceable and the wood is curved for better balance.
Buy on Amazon.
22. Metolius Hand Repair Balm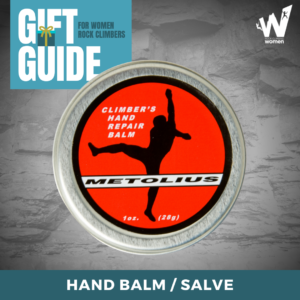 Why we love it: This balm helps rock climbers shorten the healing time of their hands, allowing them to go back to climbing more quickly.
Buy on Back Country.
23. Acucurve Cane Massage Stick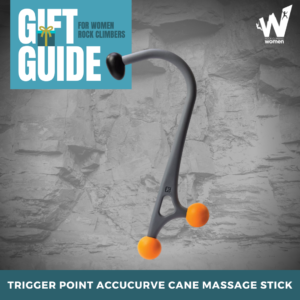 Why we love it: This ergonomic massage stick can help release tight muscles, even getting to those hard-to-reach muscles. It is best to use on the neck, back, and shoulders.
Buy on Back Country.
24. PROHANDS Gripmaster Hand Grip Strengthener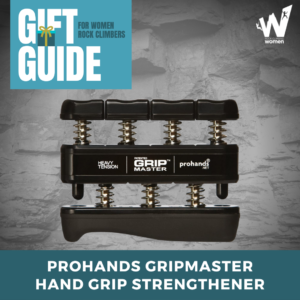 Why we love it: This is a great exercise tool for the fingers. It is used by professional athletes and even world-class musicians. It exercises each finger by isolating them, and it can also be used for the entire hand to develop wrist and forearm strength.
Buy on Amazon.
25. EVERYMILE Wobble Balance Board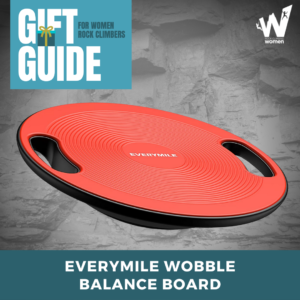 Why we love it: This board helps enhance balance and stability. It has a 360-degree rotation capacity. It is also portable and lightweight, so you can take it with you when you travel.
Buy on Amazon.
26. GSI Outdoors Java Drip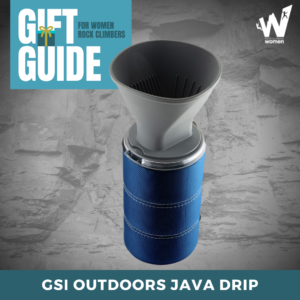 Why we love it: Get coffee on the go wherever you are with this tool. It has a reusable filter and a locking drip cone. Its lid is insulated and the carafe is double-walled and insulated as well.
Buy on Back Country.
27. Power Blendz Recovery Powder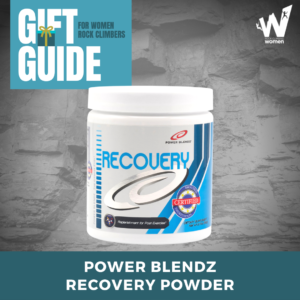 Why we love it: Adding one scoop of this powder to your beverage or smoothie can help decrease the recovery time of your muscles. It also promotes muscle growth while preventing muscle catabolism. It is also good for the joints, immune system, and blood sugar.
Buy on Power Blendz.
PLAYFUL GIFTS FOR ROCK CLIMBERS
 28. Sunset Climber Socks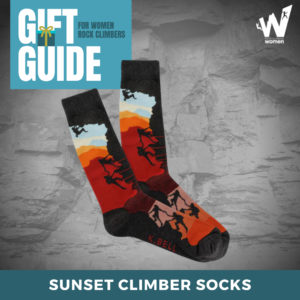 Why we love it: These socks are warm, cozy, and get us wanting to climb in Utah, stat! Everyone in the entire world loves socks, right? For overnight camping and climbing expeditions, keep your climber's feet on brand with this pair of rocky sockys.
Buy on Sockologie. 
29. Climbing CLIMB Be Strong Customized Poster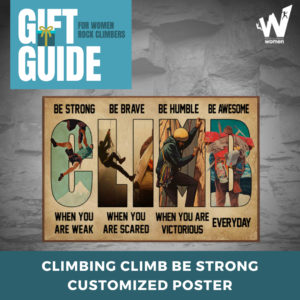 Why we love it: This adorable climbing poster is rugged and sweet all mixed into one. If "Eye of the Tiger" met a boulderer, this poster would be its final creation. It's inspirational and rough, and we could definitely see this hanging in your personal bouldering den for motivation's sake. 
Buy on Wander Prints.
30. Personalized Canvas with Rock Climbing Couple or Friends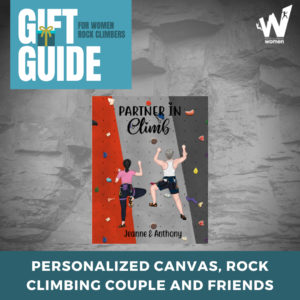 Why we love it: This affordable canvas is also custom-made for any climbing duo! Choose from a selection of adorable, rock-climbing themed phrases. Then, match your duo to a few characteristics that will be printed on the canvas and mailed wherever you'd like. 
Buy on Gearlit.
31. Climbing Knot Jewelry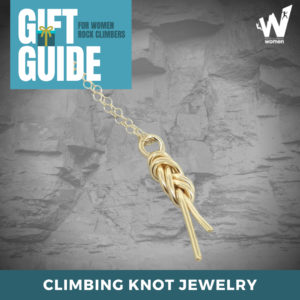 Why we love it: The distinguished figure-8 knot is a rock climber's first love. It keeps us safe and tied into our belays. This assortment of silver, gold, or brass plated climbing knot jewelry available is perfect for meeting any gift recipient's preferences!
Buy on Etsy. 
32.Gear Aid and Tenacious Tape Gear Patches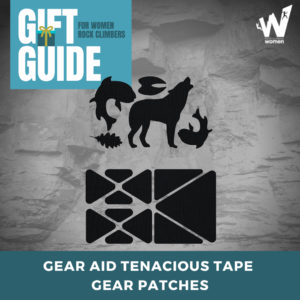 Why we love it: A rip or tear in your favorite chalk bag, climbing pants, or jacket is a sad sight. As climbers, we know our attire is bound to get its fair share of wear, but these adhesive patches make any staple clothing item good as new. Plus, it adds a bit of razzle and dazzle. 
Buy on Amazon. 
33. Pinch Hold Mug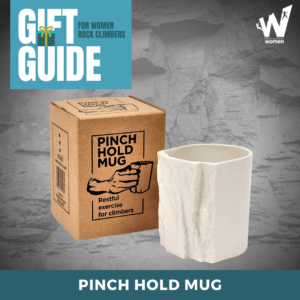 Why we love it: This is a classic gift with a climbers twist. It has a sculpted rock face instead of a handle, which allows the user to exercise their grip while enjoying a drink.
Buy on Amazon.
34. Rock Climbing Mug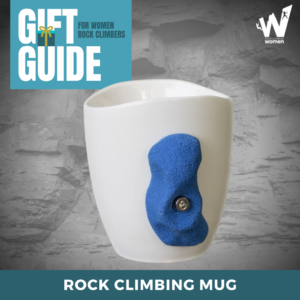 Why we love it: Another unique and quirky mug, this one is sturdy and is likely to last a long time. Every time the recipient takes a sip, they'll be reminded of rock climbing — and of you!
Buy on Amazon.
35. Climber 3D Wall Sculpture Gifts for Rock Climbers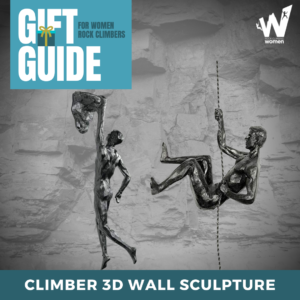 Why we love it: Combining art with climbing, this handmade wall sculpture depicts a climber. You can choose from various poses and positions.
Buy on Amazon.
36. Climbing Vinyl Record Clock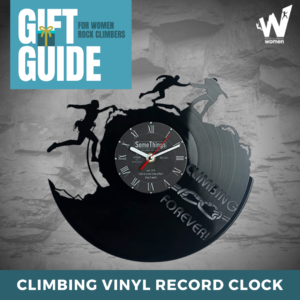 Why we love it: This art piece is functional, showcasing the beauty of rock climbing in a clock made from vinyl records.
Buy on Amazon.
37. Climbing Rock Heartbeat T-Shirt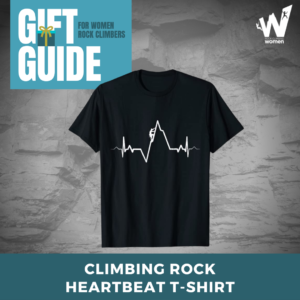 Why we love it: This simple t-shirt showing a rock boulder in the shape of a heartbeat is lightweight and has a classic fit.
Buy on Amazon.
38. Suspended Stone Necklace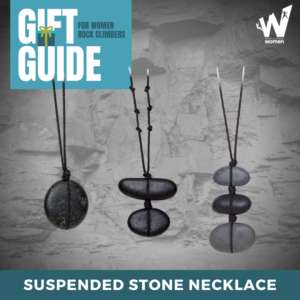 Why we love it: Consider this simple, handmade piece of jewelry, which is not flashy but is certainly meaningful.
Buy on Suspended Stone Design.
BOOKS, MAGAZINES, AND MEMBERSHIP GIFTS FOR ROCK CLIMBERS
You can also surprise your loved ones with a subscription from their favorite magazine or give them a membership for a helpful organization.
Books about climbing will also be great gifts for rock climbers.
Here are some options you can try:
39. Training for Climbing: The Definitive Guide to Improving Your Performance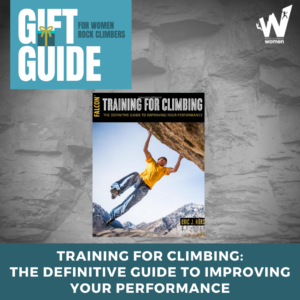 Buy on Amazon.
40. Vertical Mind: Psychological Approaches for Optimal Rock Climbing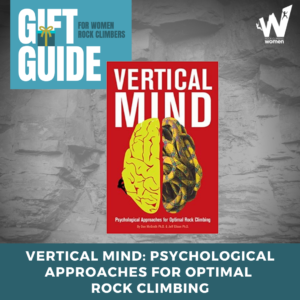 Buy on Amazon.
41. Alone on the Wall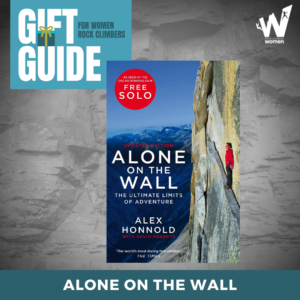 Buy on Amazon.
42. The Crag Survival Handbook: The Unspoken Rules of Climbing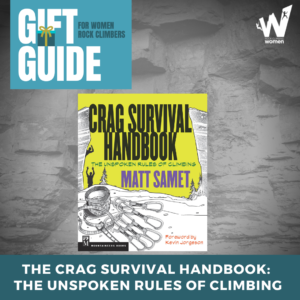 Buy on Amazon.
43. Climbing Magazine Subscription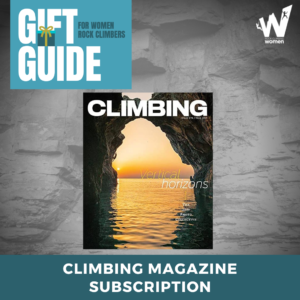 Buy on Amazon.
44. Access Fund Membership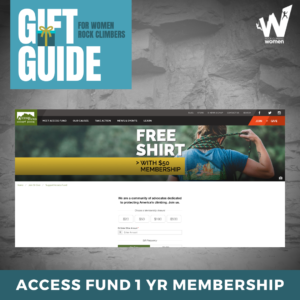 Buy on AccessFund.org.