Every climber needs a bit of brain food in between routes.
If you're looking for something more technical, check out our four suggestions for instructional material.
These books offer solid tips on technique, footwork, and placing gear.
Needing inspiration?
We've added four feel-good powerhouses to this list as well.
Lastly, for late-night reads or long road trips from crag to crag, I've added some popular climbing memoirs.
These 12 climbing books are real page-turners, and you're going to want to clip in chapter after chapter.
Let's take a peek, shall we?
4 Best Instructional Climbing Books
Training for Climbing: The Definitive Guide to Improving Your Performance
Don McGrath & Jeff Elison
When it comes to coaching climbing teams or individual climbing growth, this book delivers on quality.
Experienced and novice climbers alike refer to McGrath and Elison's book as a "climbing bible," chock-full of nutrition advice, injury prevention, warm-ups, and a breakdown of the climbing world as we all know it.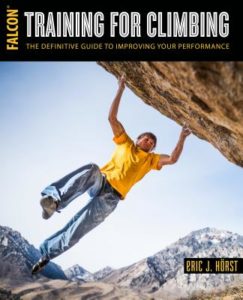 Buy it on BookShop.org.
The Trad Climber's Bible
John Long & Peter Croft
This book is a collection of climbing stories from the lives of Long and Croft, two expert climbers.
Take it as a how-to or novel full of life experiences related to rock climbing because these two dive into the best and worst hiccups in their rocky careers.
Readers describe this pick as a reference book and historical novel rolled into one.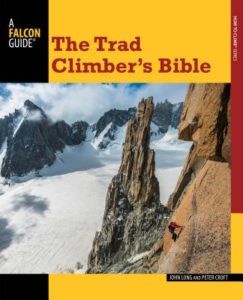 Buy it on BookShop.org.
The Rock Climber's Training Manual
Michael L. Anderson & Mark L. Anderson
Pick up this manual for guidance on training: routine, intake, exercises, and additional valuable information.
It piggybacks as an asset to newbie climbers and experienced climbers looking to revitalize their climbing routines.
The manual is concentrated on skill acquisition and goal setting.
There's no material about technique; keep this in mind before buying.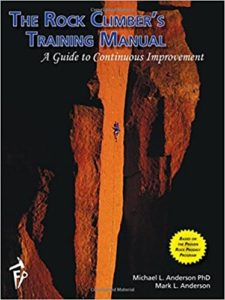 Buy it on Amazon.
The Crag Survival Handbook: The Unspoken Rules of Climbing
Matt Samet
Climbers are some of the most polite people on the planet.
When we're climbing in a gym, we mind our manners both on and off the rock wall.
But, when it comes to the outdoor world, what are the main standard operating procedures?
This handbook spills all of that.
It's witty and full of sensical information to keep you safe climbing no matter the terrain and type of climbing.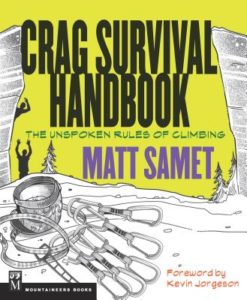 Buy it on BookShop.org.
4 Best Inspirational Climbing Books
Women Who Dare: North America's Most Inspiring Women Climbers
Chris Noble
There's no better motivation than reading up on twenty of this age's most daring and successful female climbers.
Follow greats like Lynn Hill, or learn more about other climbers that have placed gear around the world and changed the climbing sport forever.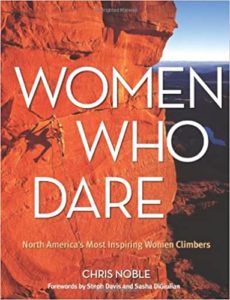 Buy it on Amazon.
Vertical Mind: Psychological Approaches for Optimal Rock Climbing
Don McGrath & Jeff Elison
Half of the sport of rock climbing is all in your head. It's how you push your limits, understand the way your body flows with the wall, how you read a route, and plan your movements.
Climbing is psychological, and this book explores that.
Unlike other climbing books, Vertical Mind refers to the science behind how people think as they do and what mental roadblocks we put up along the wall that could be hindering our climbing progress.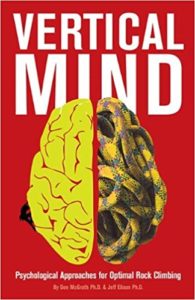 Buy it on Amazon.
The Rock Warrior's Way: Mental Training for Climbers
Arno Ilgner
Transform your mind, and thereby, transform your climbing.
Ilgner's rock climbing book addition is about discipline; training your mind to harness the maximum potential on the rock wall and in life.
It's normal to experience a fear of falling, exposure, and heights.
The Rock Warrior's Way combats these anxieties with tried and tested mechanics that smooth out your fears and allow you to supercharge your climbing abilities and stamina.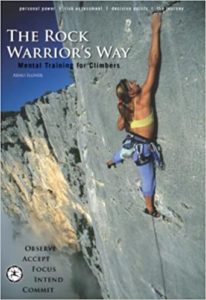 Buy it on Amazon.
Girl on the Rocks: A Woman's Guide to Climbing with Strength, Grace, and Courage
Katie Brown
This book is best for new climbers.
It doesn't go too in-depth about advanced movement and technique but informs just enough to get your climbing career up and running.
Brown describes her personal journey with climbing, how she's battled fears and doubts, and how she's come out resilient and a better climber for it all.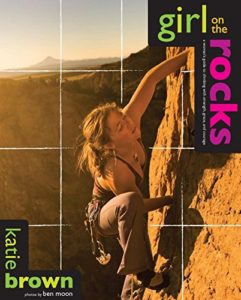 Buy it on Amazon.
4 Best Climbing Memoirs
High Infatuation: A Climber's Guide to Love and Gravity
Steph Davis
Rock climbing is a different type of sport.
If you've climbed before, you can understand what we mean when we say it's "challenging, yet transformative."
Climbing teaches you as much as you allow it to.
Davis is no stranger to adapting valuable lessons learned in the wilderness and on the crag to daily life.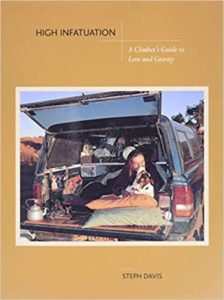 Buy it on BookShop.com.
End of the Rope: Mountains, Marriage, and Motherhood
Jan Redford
Redford's memoir on motherhood and climbing hits a soft spot amongst readers.
When she started out her climbing career, she was in an unhappy marriage, finding it hard to navigate life.
It seemed to worsen as time passed, before she took matters into her own hands.
This book covers the passage of climbing real mountains and symbolic ones.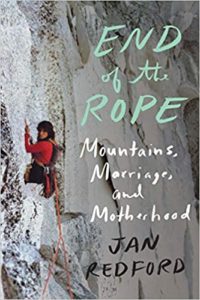 Buy it on Amazon.
Alone on the Wall
Alex Honnold & David Roberts
Readers get a rare glimpse into the mind of climbing legend, Alex Honnold as he takes on the biggest climbing feat to date, free soloing in Utah's Zion National Park.
Honnold splits climbing into consequence and risk.
The mental breakdown and angles of judgment throughout the story are narrated by Roberts, making it a classic for climbers and non-climbers alike.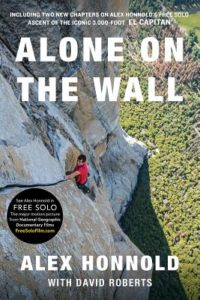 Buy it on BookShop.com.
Breaking Trail: A Climbing Life
Arlene Blum
This memoir is entirely different from any others on this list, as Blum gracefully speaks on the friends she's lost along the way climbing and summiting various peaks.
She describes the risks associated with the outcomes of this dangerous but rewarding sport.
After the loss of close friends, Blum completely changed the way she climbs, hikes, and lives her life.
It's a reminder that we're not permanent in this crazy, beautiful world.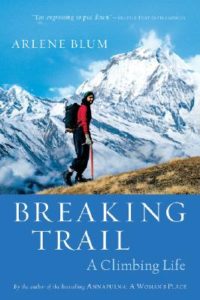 Buy it on BookShop.com.
Sign up for our newsletter below for more climbing-related recommendations!

McKenzi Taylor founded Rock Climbing Women in 2013 after moving to a new city as a new climber seeking more climbing partners (and new friends!). Since her first taste of climbing in Spearfish Canyon, SD, McKenzi has been at the rock face seeking and sharing the thrill of climbing. She credits the support of a consistent climbing partner and community as the motivation to continue developing her skill, whether it's trad, sport climbing or bouldering. A full-time business owner and mother, McKenzi's on a mission to get her kids outside and learning to adventure alongside her.