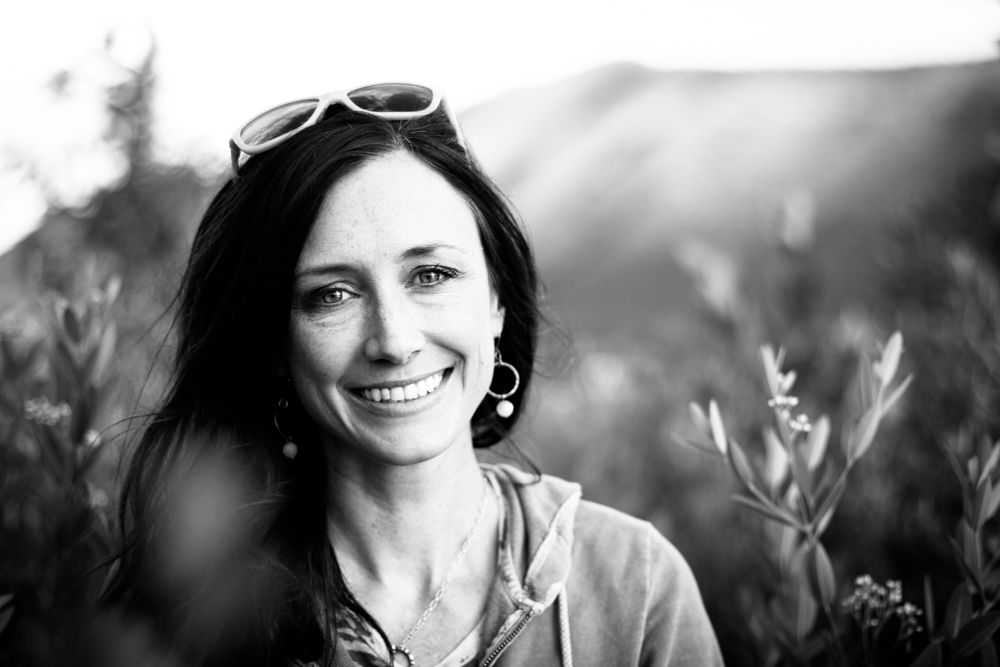 I'm lucky to live in an awesome place — Las Vegas. We have Red Rock Canyon and many other amazing climbing destinations in our backyard. My location also allows me to meet amazing people, like Heather Weidner! I recently saw a gorgeous and inspiring photo posted on facebook of Heather on The Great Red Roof and I HAD to talk with her! Lucky for us, she was able to answer a few question in between her travels! (Thanks, Heather!!)
Read on… and don't forget to check out her personal blog — HeatherClimbs

A little about me:
I grew up in Las Vegas, NV- one of the few natives.
My husband, Chris, and I now call Boulder, Colorado our home, however we are traveling quite frequently these days. It's really nice that we don't have any ties at the moment and can travel freely.
I first started climbing when I was 22 years old. I was an undergraduate at Colorado State University in Fort Collins, and I had a boyfriend at the time that climbed (so cliché I know). I had just moved to the Fort and had given up my old passion of horseback riding and my mom had just passed away. I felt super empty. Climbing became the perfect diversion. My boyfriend took me outside for the first time and to the climbing gym and I really enjoyed latched on. I was super busy with school and didn't have much time, so even going to the gym once or twice a week was a big treat.
Being from the state of Nevada, I was awarded a grant and a seat in veterinary school at CSU. I graduated and worked as a small animal general practitioner for five years in Las Vegas. I worked four days a week and so I had gobs of free time compared to when I was in school. I decided to really focus on climbing for the weekends. That's when the obsession really kicked in.
My husband, Chris, came to Vegas to climb about four years ago now, and we met up at one of the local crags. We really hit it off and about a year into our relationship he asked me if I'd consider quitting my job to climb- he would help me out if needed. We could climb and travel. It was a no brainer.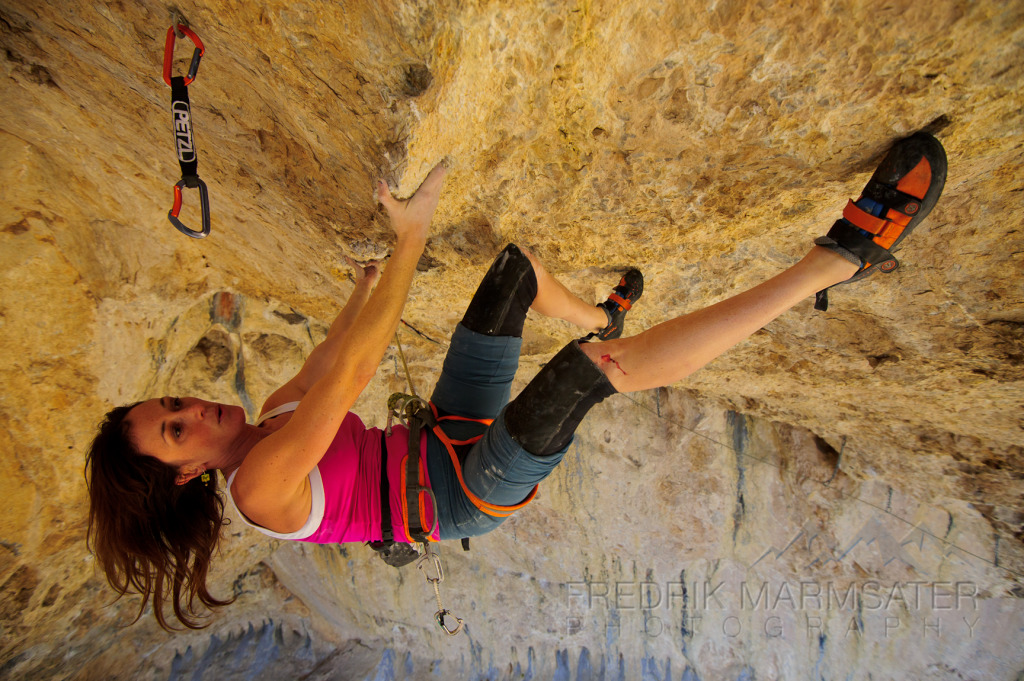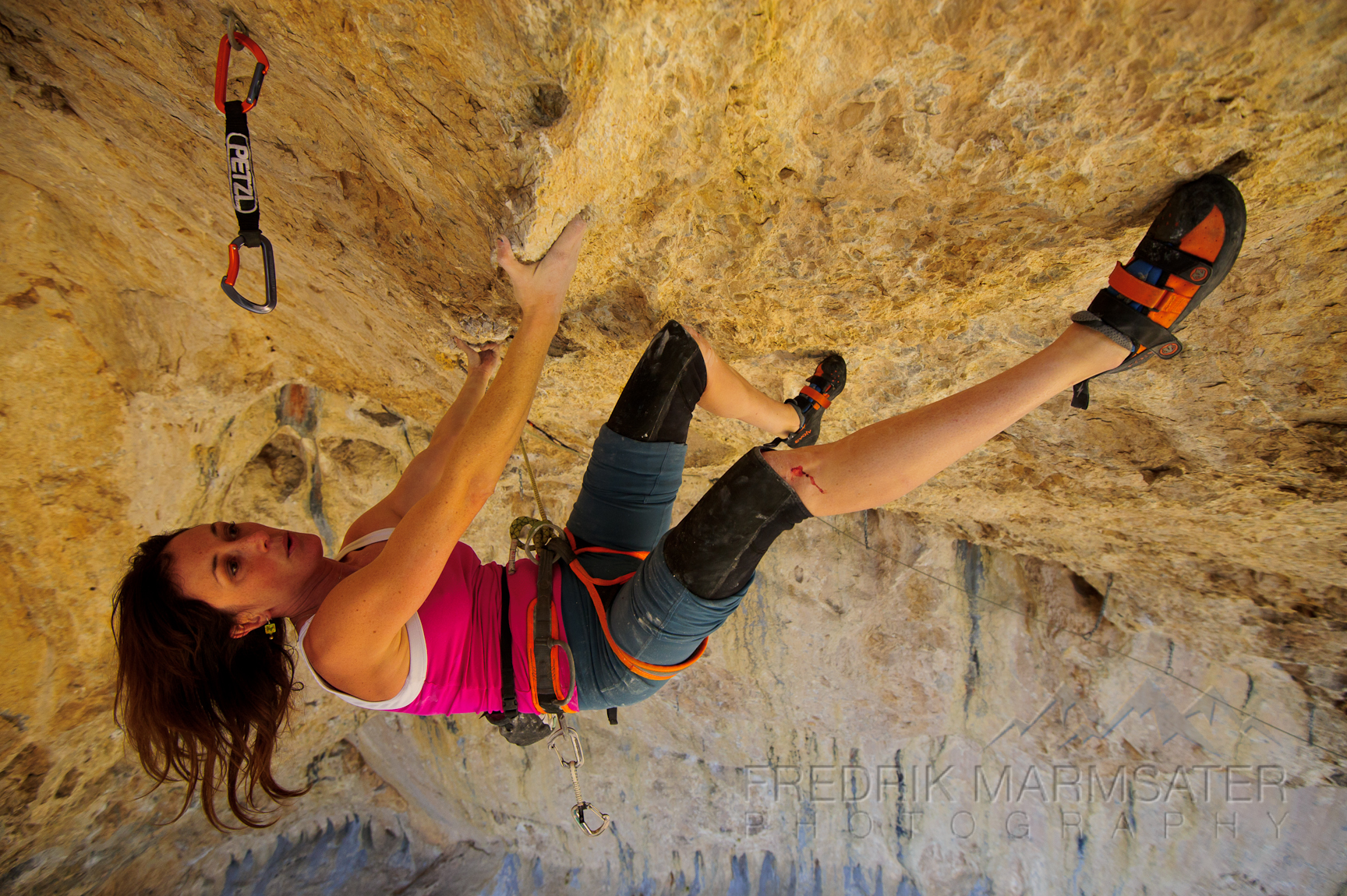 Climbing:
My favorite climbing destination
My favorite climbing destinations would have to be Rodellar, Spain, and Kalymnos in Greece. I think limestone sport climbing is pure fun and it is endless in these destinations (not to mention the people, food, and scenery are to die for).
My favorite route
My favorite route of all time would have to be Fall of Man, in the Virgin River Gorge, Arizona. It's a 125' long vertical 13b sport climb with multiple cruxes, big runouts, and a technical slab finish. The VRG is alongside a major highway (which is too bad) and so you can't hear your partner or anyone. I just remember having to keep it together mentally and being up there in the zone forever- it was super memorable.
Most proud climbing moment
My most proud climbing moment would be when I was able to send Stockboy's Revenge, in Rifle, Colorado. It was the first of the grade for me (14b) and in the middle of summer. It was so hot it was laughable. After a redpoint burn my belayer and I would be soaked and just look at each other thinking, what are we doing here? It feels like a jungle! When I sent that evening, I couldn't believe it. I thought wow, did that really just happen? I don't get those moments very often.
On traveling…
I feel extremely fortunate to be able to travel a bunch in the past three years. It's definitely different climbing in another country as opposed to your local crag. Being adaptable is the most important lesson I've learned with traveling. You're not going to have all the luxuries or supplies you have at home, and that changes things- but that's usually as a good thing! We travel to experience other cultures, meet new people, and see new things.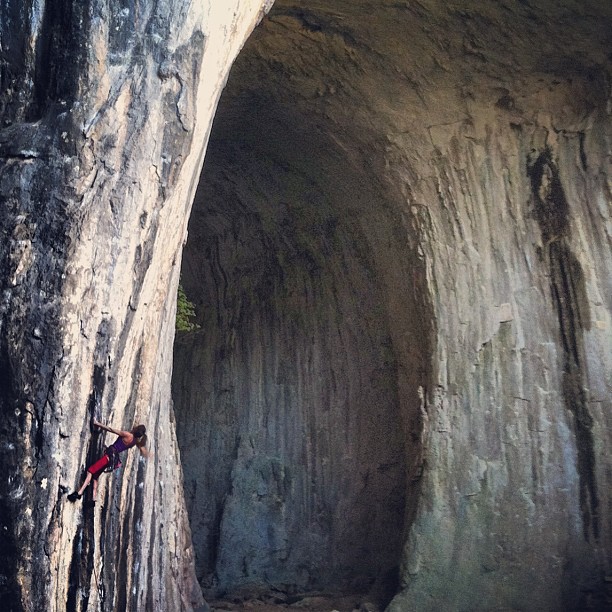 On being a vegetarian…
I've been a vegetarian for seventeen years now. I am a lacto-ovo vegetarian meaning I eat dairy and eggs, so it's super easy for me- even when traveling. Typically everywhere I've been as a last resort there is bread and cheese. I always bring a ton of Clif products just in case the food scene is grim.
What inspires you to climb?
I'm inspired to climb because I feel like it is a perfectly blended challenge that you can share with like-minded people in beautiful places. I'm stimulated mentally and physically by difficult rock climbs. After a number of years of living with a lot of stress and working long hours, I love keeping things simple in life. With climbing I can set goals and try to accomplish them with people I care about- it's a great way to spend the day.

How do you train?
I'm relatively new to the whole training scene with climbing, but I can say the most important things to help achieve your climbing goals are to stay positive, have fun, and listen to your body. Along with that, I feel it's important to stay open to new things and work on your weaknesses. I am naturally better at endurance climbing, so when I train it is almost always strictly about building strength and power. Right now I have been campusing and bouldering in the gym- it is so good for my climbing. It also really helps to have a climbing goal in mind to work toward and be around motivated and supportive people.
Have you ever thought about quitting?
I've never thought about quitting climbing for a second! However, I do frequently think about how lucky I am to be physically able to do what I love. I realize that accidents happen and all of this could be taken away at any moment. I'm the kind of person that if I couldn't climb I'd embrace something else. When I get down on myself performance wise or don't send, thinking about the big picture helps to put me back in check. The truth is I am extremely fortunate to be doing what I'm doing and each morning I make an effort to be thankful for my life and those I love.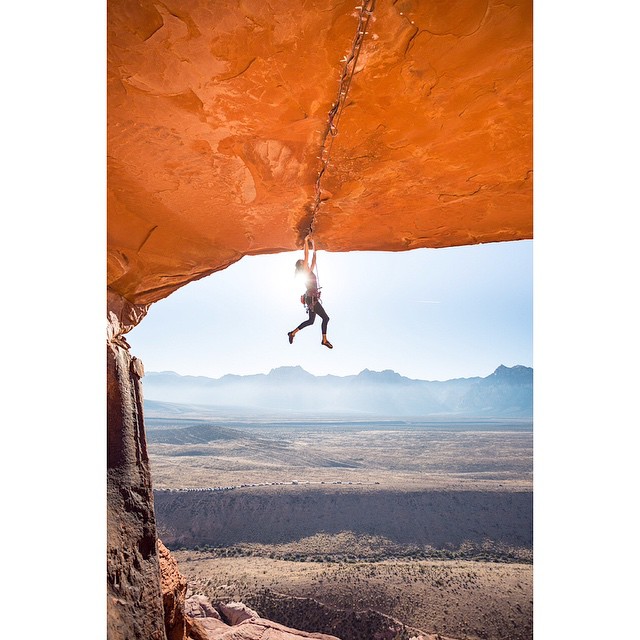 That photo…
Ha! So, I had been working on The Great Red Roof for a couple days, and our friends Jon Glassberg (who got the shot) and his girlfriend Lisa Chulich were in town and went with Chris and I to check it out. They have great energy and it was so fun that they were there. My first burn that day I almost sent- I got through the crux to the jug at the end of the horizontal roof. I just had to hold on and get through about 10 more feet of vertical climbing, but I couldn't- my hands were opening up involuntarily and I fell. My second try, Jon was looking at the position of the sun and saying how perfect photos would be once I was out the roof- all I could think about was trying to redpoint my climb. I was really nervous because I knew I could do it but I just had to keep things together. Luckily, I got to the jug once again and was able to recover- I did it that try. It was super special that Jon got those epic photos on the send burn. What a beautiful climb and amazing day!

McKenzi Taylor founded Rock Climbing Women in 2013 after moving to a new city as a new climber seeking more climbing partners (and new friends!). Since her first taste of climbing in Spearfish Canyon, SD, McKenzi has been at the rock face seeking and sharing the thrill of climbing. She credits the support of a consistent climbing partner and community as the motivation to continue developing her skill, whether it's trad, sport climbing or bouldering. A full-time business owner and mother, McKenzi's on a mission to get her kids outside and learning to adventure alongside her.