Recent Route: Black Dagger a sandbagged 5.7+ PG13 in Red Rock Canyon.
There's much to said about this route and it's great 6 pitches. The route is a bit adventurous and bold, in my opinion but offers beautiful views of Red Rock and varied climbing. While the route is rated a 5.7, I would recommend if for a 5.9 leader or higher. The route has face climbing, some off-width climbing as well as a nice little chimney to squeeze yourself through. Not to mention the 2 hour approach, this climb requires a big chunk of your day!
This type of climbing is some of my favorite. I love being able to spend the entire day out in nature. Thinking of nothing else other than task at hand– climbing. There are no cell phones to be answered, no texts to reply to, no facebook status to update. It's my partner, I, and the rock.
The only other thing that may have my attention is the beauty of the surrounding area. The views from above that hardly anyone ever sees aside from climbers are often times beyond imagination…Or the sounds I hear — birds in flight, the wind, the sound of my climbing partner screaming "on belay, Mac".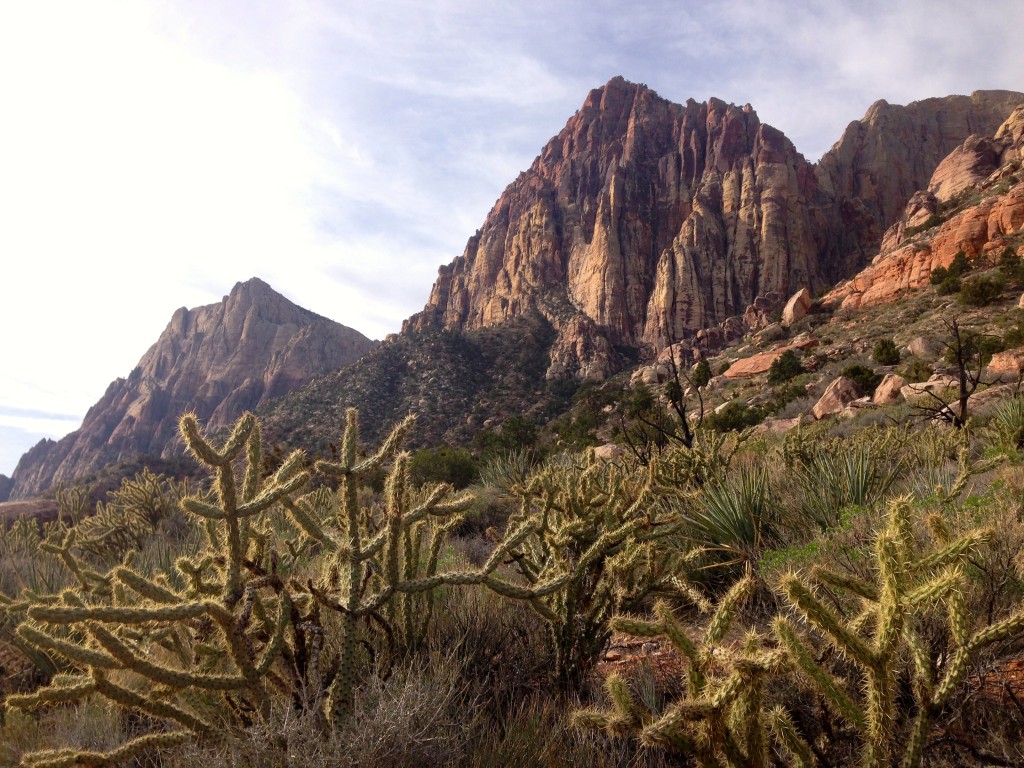 Route Description:
Approach:
Park at Pine Creek parking area. The approach is nothing to laugh at. It's about 2 hours give or take and not incredibly challenging but enough of a challenge that I felt incredibly out of shape. haha. The hike in, is stunning, however. We started in around 9am in mid February and the sun was spraying itself across all the cholla cacti. Further into Juniper Canyon there is water, a few frogs croaking and giant, unexpected pine trees. The trail seems to be a popular trail for hikers, so it's easy to follow.
The Climb:
P1: This pitch was easy climbing. Climb up to a white roof. To avoid excess rope drag ignore the 2 bolt anchor and build your own gear anchor 15′ lower in a crack on a small ledge.
P2: Delicately climb the face on the left side of the roof placing small gear where you can find it. Once on the roof; traverse right about 10′ to a crack. If you slung your gear long and managed your rope well you can skip the bolted anchor and climb 100′ up the crack to another ledge.
P3: The super fun crux pitch. Carefully stem your way through the start of the thin crack until it widens giving you better holds and rests. Climb up to the huge chimney and belay here. This pitch was somewhat awkward and pretty sustained and but calmness and delicate feet will see you through. A BD #6 was great to have on this pitch; which took some of the "runout" out of it.
P4: I was excited to see this chimney after some of the more exposed portions of the climb. I love tucking myself inside.While the chimney is rate 5.2 don't discount it. It's a squeeze! You'll want to make sure you go left through the "squeeze" unless you want a 5.9 variation on the right. A good "seated" belay should be fine to bring up your second.
P5: From the exposed ledge. Easy but hard to protect face climbing leads up to a pink corner system, continue up until you are below a small roof.
P6: The roof looks a bit scary from below (I'm not the best with roofs), but it was a very easy roof to climb through. We went from the 6th pitch to the top with a full 70m rope. Easy climbing after the roof, but I'm still happy I was on belay.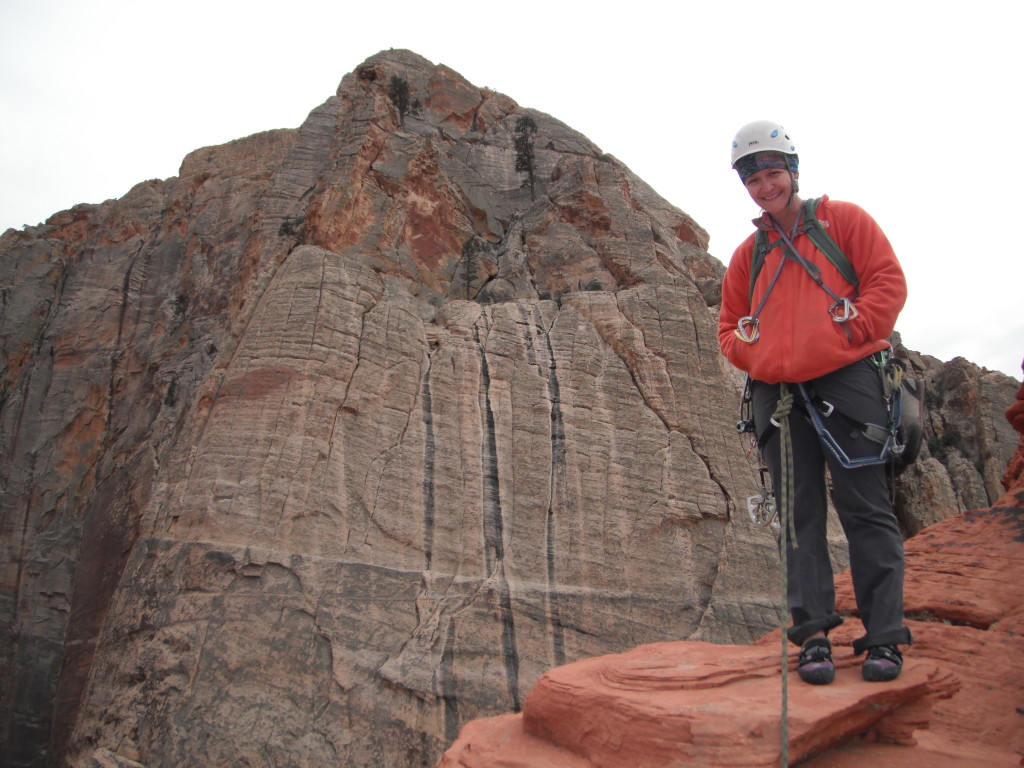 Descent:
I loved the descent! Traverse your way south along the ridgeline towards the gun notch. There is a bit of exposure on the descent, but it's easy scrambling. It's pretty easy to navigate from the top of the climb to the gun notch. After a snack, it took us about 20 minutes to get from the top to the beginning of the gun notch.
The gun notch was outstanding, but I am very happy we did this before it got dark. It's a gorgeous slot with a couple sections of class 5 downclimbing. So worth seeing right at dusk. Navigating it after dark would be more annoying than exciting, in my opinion. Once we made it through the tricky portions of the downclimb, we found our packs and headed out with just enough daylight left to get through the more technical parts of the hike.
Overall, we left our car at 9am and made it back to the car just after dark… about 6:30pm.
Wonderful route for every level of climber!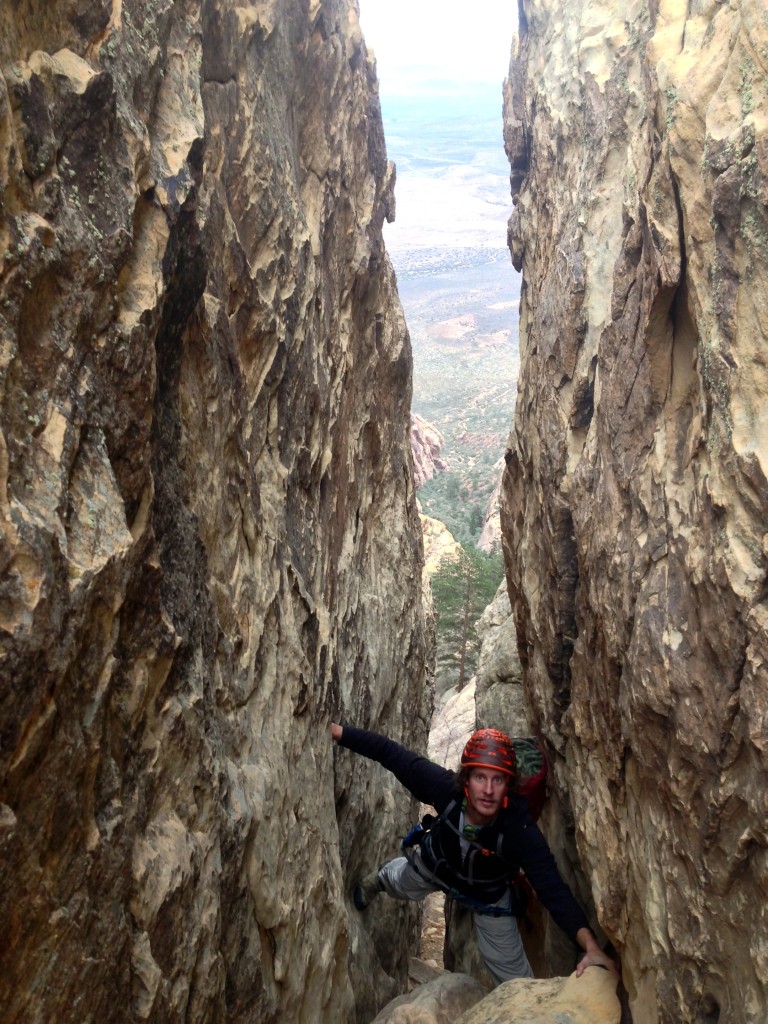 McKenzi Taylor founded Rock Climbing Women in 2013 after moving to a new city as a new climber seeking more climbing partners (and new friends!). Since her first taste of climbing in Spearfish Canyon, SD, McKenzi has been at the rock face seeking and sharing the thrill of climbing. She credits the support of a consistent climbing partner and community as the motivation to continue developing her skill, whether it's trad, sport climbing or bouldering. A full-time business owner and mother, McKenzi's on a mission to get her kids outside and learning to adventure alongside her.