In most sports, there are areas open for customization. Whether it be the jerseys, shoes, or uniform, there's a bit of personality in every choice.
For climbing, most gear is made with safety as the top priority, without much room for personalization.
Sure, you could get your name stitched onto your climbing harness, or pick out your favorite color climbing shoes, but is it enough?
Cue chalk bags!
Not only are chalk bags every climber's sidekick on the wall or out bouldering, but they're also super personable and open to creativity without posing any safety risks.
Better yet, there truly is a chalk bag out there for everyone's tastes.
Keep it simple with an outdoorsy vibe, or switch it up with the fluffy chalk bag collection from 8B Plus.
Let's find your chalk bag style!
But first, bag or bucket?
If you're going to be bouldering more than you top-rope or sport climb, a chalk bucket is the better choice.
It's a solid gear option for longer ways at the boulder or with a group of friends.
A bag is more suited if you prefer to stick to rope climbing.
It's easy to clip to your harness or attach with a waist belt.
You want to be as light as possible, and even though chalk weighs practically nothing, a bucket can get in the way.
What are some core features to look out for?
Chalk bags are designed according to use, and every climber climbs differently.
Three main core features to factor into consideration are:
Stiffness of the chalk bag rim: This feature doesn't sound like much but plays a huge part in how accessible your chalk is. When you're taking a chalk break on a route, you want to be able to chalk up as easily as possible. If the outside rim is not stiff, you'll have a hard time getting your full fist in the bag.
The lining: Many climbing chalk bags come lined with fleece to minimize flying chalk.
The closure: If your chalk bag is drawstring-less then you're going to be a chalk tornado. Shop for a bag that closes at the top so you don't lose all your chalk.
Rough and Rugged Chalk Bags
These chalk bags are weather-proof and durable to the maximum degree. They may have additional features like an extra pocket or clip-in.
#1. Black Diamond Creek Chalk Bag
Price: $30
The Black Diamond Creek chalk bag is one of the most versatile bags out there at a decently affordable price. It's black, waterproof, weather-proof, and built to last. There's a pocket at the bottom that can hold a headlamp or a cell phone.
Its design is perfect for tight areas or cracks. Climbers can slip in their hands easily to apply full chalk coverage with minimal effort.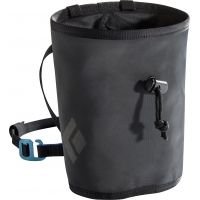 Buy on OpticsPlanet.com
#2. STATIC Waxed Canvas Chalk Bag
Price: $35
Minimal tip, maximum vintage vibes with this chalk bag. STATIC set out to design an anti-spill, weather-proof chalk bag and hit every mark.
It's lined with fleece to minimize fly-away chalk, with a lining that's attached via a drawstring. STATIC offers a lifetime warranty for this chalk bag, so it's an easy investment for outdoor climbing trips.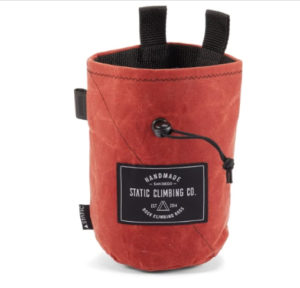 #3. Arc'teryx Ion Chalk Bag
Price: $40
The ion chalk bag is any climber's go-to for quick, efficient chalk access. It's built sturdily enough that you can re-chalk without haste. There's a small pocket for a hold brush and a drawstring closure for traveling on the go.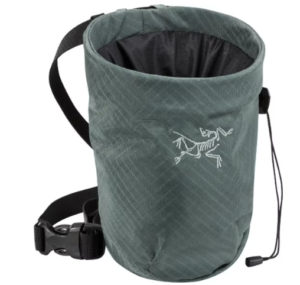 Creative and Cute Chalk Bags
These chalk bags won't last your entire climbing career, but why not pick up one for indoor climbing?
#4. Metolius Tetons Chalk Bag (or any access fund chalk bag)
Price: $18
Climb for a good cause with any Metolius access fund collection chalk bag. This Tetons bag is a classic, stunning design, complete with a waist belt and brush holder pocket.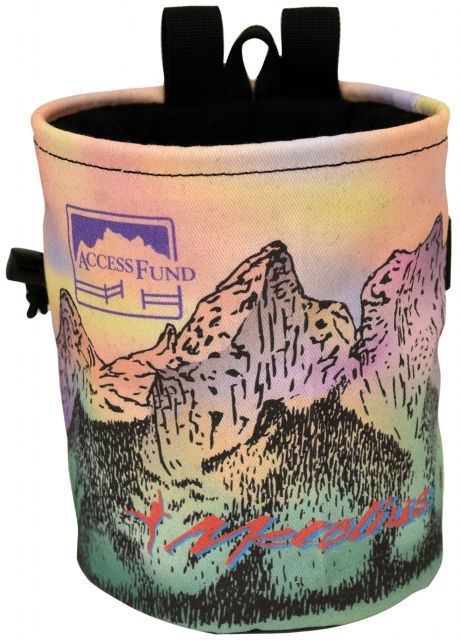 Buy on OpticsPlanet.com
#5. 8B PLUS "Monster Collection" Chalk Bag or Bucket
Price: $20+
This cuddly chalk bag collection has us wanting to adopt all the little monsters. There's a chalk bag soulmate for every color, look, and vibe. In addition, 8B PLUS also offers the same cool creatures in a chalk bucket.
Of course, these bags wouldn't hold up well outdoors, but for everyday gym climbing, they're too much fun to pass up.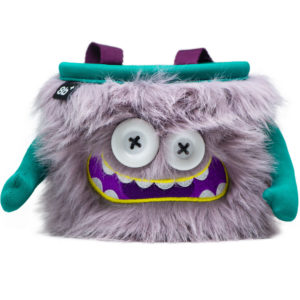 #6. Organic Climbing Chalk Bag
Price: $25
The Organic Climbing brand is well-known for durability, positive initiatives, and individuality in its gear and chalk bags. They carry both bags and buckets in very similar styles, so if you see a bag you like but prefer a bucket, you've got that option.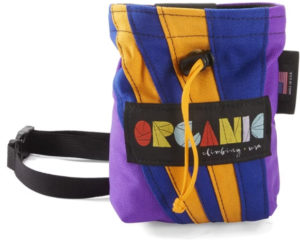 The OGs
You can't go wrong when choosing a chalk bag, as long as you know what you're looking for with functionality. All the chalk bags on this list are peer-reviewed with quality in mind.
If you climb a mixed bag of sports routes, bouldering, or indoor, think about having one travel bag and one indoor bag. This way you can have a fun, personalized chalk bag for the gym, and a rugged one for outdoor pitches.
Don't forget to sign up for our free weekly email newsletter. You never know what cool climbing gear we might be digging up next!

McKenzi Taylor founded Rock Climbing Women in 2013 after moving to a new city as a new climber seeking more climbing partners (and new friends!). Since her first taste of climbing in Spearfish Canyon, SD, McKenzi has been at the rock face seeking and sharing the thrill of climbing. She credits the support of a consistent climbing partner and community as the motivation to continue developing her skill, whether it's trad, sport climbing or bouldering. A full-time business owner and mother, McKenzi's on a mission to get her kids outside and learning to adventure alongside her.