Packing for any trip can be stressful, and the thought of leaving behind an essential piece of equipment is the literal worst.
Whether this is your first trip to the crag, or you're a seasoned outdoor climber, this checklist makes 100% sure you don't leave behind your nuts, ropes, and anchors. 
If you plan on bouldering instead of sport climbing, you'll need to bring a whole different set of gear. Luckily, we have a list for both. Download the checklist to keep on hand for your future trips.
Without any further ado, let's pack our rucksacks.
Sport Climbing Checklist
For beginners, this list will suffice for your first few bolted climbs. As you advance your climbing career, you can purchase additional technical equipment for trad climbing, such as: nuts, nut tools, cams, alpine slings, personal anchor systems, and more. 
One of the best things about rock climbing is that once you invest in quality gear, it usually lasts you a good few years. Think about all the rental fees for used, smelly climbing shoes, and how you'd likely pay off your own pair within 2 months of solid usage.
1. Climbing Shoes
For the first few ascents, you could make do with non-aggressive climbing shoes. These are typically flat-bottomed shoes that help you stick to the wall. Over time, you'll want to splurge on aggressive shoes with an arch for more technical movements and extra precision.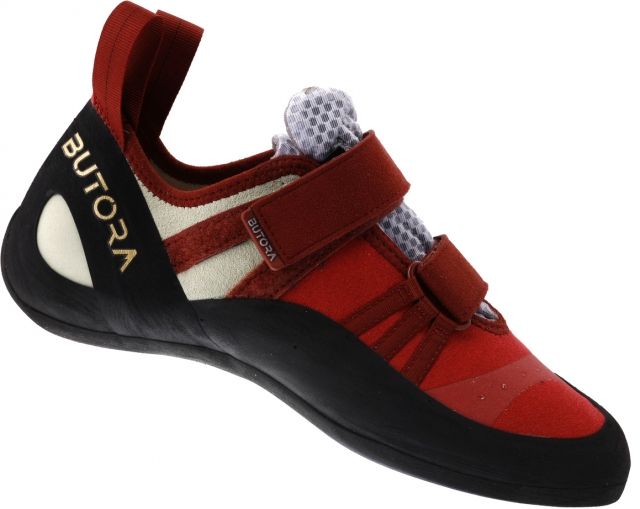 Buy on OpticsPlanet
2. Climbing Harness
Any harness that's lightweight and padded will be fine. Keep in mind the gear loops- the more loops, the more gear you can haul with you up the wall.
3. Belay Device Package
Try to snag a belay package that includes the device and an interlocking carabiner. Each ATC belay device is slightly different in terms of the grooves, edges, and holding capability. If you're worried about weight distribution, try a grigri for assisted braking. 
4. 60m Climbing Rope
A 60–70m long, 9mm wide climbing rope is enough to conquer most climbing pitches with ease. Experienced climbers may have both a static and dynamic climbing rope for route setting, but beginners and hobby climbers just need a dynamic single rope for starters. 
5. Rope Bag
Some may argue that a rope bag isn't essential for a beginner's rock climbing checklist, but we beg to differ. The rope is the pinnacle of safety in your climb, and it's vital to keep it protected from the elements and unneeded deterioration. Snag a bag that opens up to a tarp to flake the rope out without ground drag.
6. Quickdraws
Pack at least 12 quickdraws- that'll keep you protected and able to climb most routes. You'll have enough for every pitch, and two for each anchor.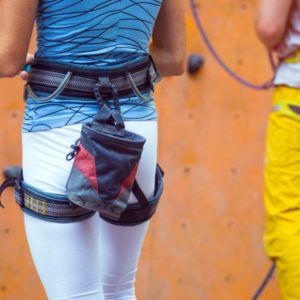 7. Chalk and Chalk Bag
Stay grippy, my friends.
8. Climbing Helmet
Both the belayer and climber need to wear a helmet at all times. Especially with loose-rock routes, falling debris could be a recipe for disaster if your head isn't protected.
9. Gear Bag or Backpack
Keep your gear protected on your hike in and out with a lightweight, comfortable gear bag. 
10. Water, Water, Water
Stay hydrated, and set reminders to drink water every hour at the very least.
11. Sun Protective Gear: Sunblock + Protective Clothing
Keep cool with dry-fit clothing and stay protected with sunscreen.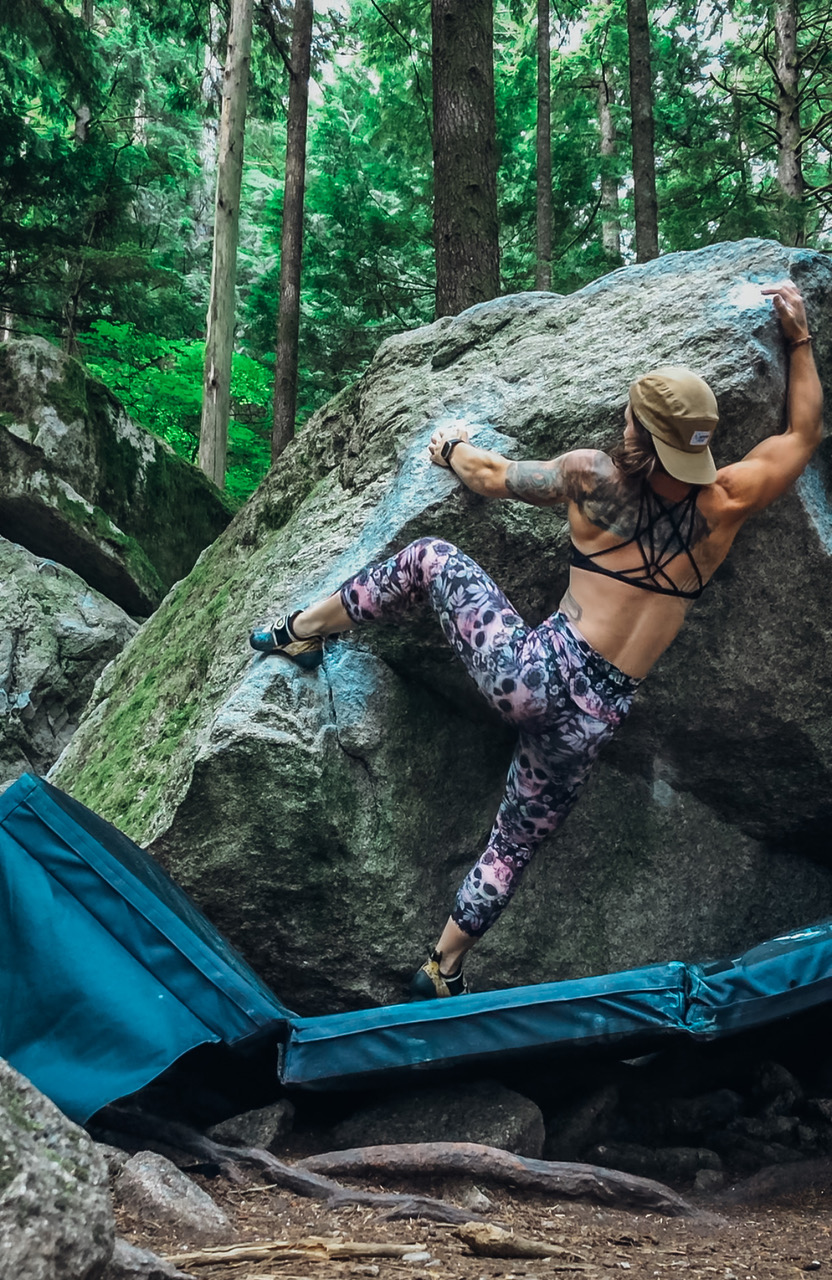 Bouldering Must-Haves
Bouldering requires much less equipment than the normal sport climbing setup. You'll have to carry a few crash pads depending on the traverse length and route height though.
The bouldering must-haves are:
1. Crash Pad
For any route, no matter the height, you'll need at least one crash pad. Most climbers prefer to bring two or more for lengthy traverses or if multiple people are climbing the area.
2. Approach Shoes
Of course, you wouldn't walk the hike to the boulder in climbing shoes. Having a pair of approach shoes is best to keep your feet relaxed and protected. Bring a pair of sandals if you'd like to chill around the boulder so you don't step on rocks.  
3. Climbing Shoes
There's no complete rock climbing checklist without a trusted pair of climbing shoes. Read up on the route ahead of time to see if you should pack aggressive or flat rock shoes.
4. Chalk and Chalk Bag
It gets warm out there and you're going to need chalk to stick to the slabs. Keep a chalk bag close by for support. 

5. Athletic Tape
Hopefully, you'd already have athletic tape in a first aid kit, but as your group climbs for hours, cuts and blisters are bound to happen. Bring a spare roll of athletic tape to bandage open sores on toes and fingers.
6. Climbing Clothing: Pants, Change of Clothes
No matter the season, it's best to stay protected from the sun and elements with breathable climbing pants. Plus, knee bars in shorts are just painful.
7. Sunscreen
Yes, even in shaded areas you'll need to stay protected from harmful UV rays. Don't forget to reapply as you sweat it off.
8. Insect Repellant
As the sun goes down and mosquitos start buzzing, keep the pesky blood-suckers off you and your team with a mosquito coil or repellant. If you use a physical product, clean up after yourselves before you hike back.
9. A Towel
Towels are universal. If you're cold: towel. If you're sweating: towel. Need to clean your shoes? Towel. 
10. Dry Bag/Gear Bag
Keep all your belongings safe from unpredictable weather conditions with a dry bag. Some routes have river or stream crossings as well, and falling in is just part of the experience.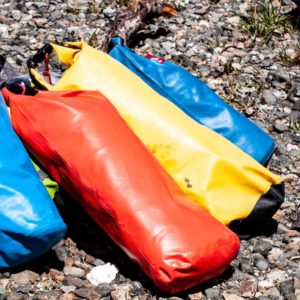 11. Social Experience Items
Level up your day at the boulder with a speaker, snacks, some lightweight chairs, and drinks.
As always, the most important item on any of climbing list is water! For every hour of hiking, adults should drink two glasses of water. It's better to pack more and not need it than to not pack enough.
If you have room, pack these extras…
Headlamp for night climbing

Hold brush

Belay gloves

Belay glasses

Two-way radios

A multi-tool

A topo or guidebook (if you're not using your phone)
Climbing is an extremely engaging sport for the body and the mind. As you ascend your outdoor projects, follow our rock climbing checklist to keep safe and pack all the necessary gear.
Most importantly, stay hydrated, stay protected, and climb on!
Download our gear checklist to ensure you didn't leave behind any necessary equipment for your outdoor climb.

McKenzi Taylor founded Rock Climbing Women in 2013 after moving to a new city as a new climber seeking more climbing partners (and new friends!). Since her first taste of climbing in Spearfish Canyon, SD, McKenzi has been at the rock face seeking and sharing the thrill of climbing. She credits the support of a consistent climbing partner and community as the motivation to continue developing her skill, whether it's trad, sport climbing or bouldering. A full-time business owner and mother, McKenzi's on a mission to get her kids outside and learning to adventure alongside her.