Whether you are climbing for fun or are doing it to challenge yourself, rock climbing is an intense but fun and exhilarating choice of sport. Aside from the thrill that it offers to adventure-seeking individuals, it helps keep you fit and healthy.
However, there are certain factors that you need to consider. Among the most important is what you wear.
The Importance of Women's Rock Climbing Pants
When it comes to rock climbing, wearing the right climbing gear is a must. From your shoes to your harness to your clothing, you need to make sure you are using the best equipment.
 So choosing the right pants is of great importance. Similar to your other climbing equipment, your pants should be comfortable. In most cases, your rock climbing pants feel like a second skin; they are a part of you as you go climbing. At the same time, they should be durable enough to withstand extreme activity. 
Finding the Right Pants
Not all rock climbing pants are created equal. You need to find a pair of pants that balances strength, stretchability, and — for many — style. 
Here are some factors you should consider when choosing your climbing pants:  
Material
Various materials are used to create women's rock climbing pants. Usually, a pair contains a blend of materials. Each type of fabric has its pros and cons. So, the best option will depend on the individual who will be wearing the pants. Here are some of the most common materials you can find in rock climbing pants:
Cotton: The best characteristic of cotton is that it is breathable. This type of fabric tends to have a certain stretchability that makes it tear-resistant. Cotton pants are easy to wash. They also do not retain odor over time. However, cotton pants have a downside too. One of the biggest is that it is water absorbent. Because of this, they dry slowly. 
Polyester: Another common type of fabric used for climbing pants is polyester. It has abrasion-resistant properties. It may be a bit waterproof, which means it does not absorb water. However, polyester is prone to get stinky after a few wears. It is also less breathable compared to cotton.
Nylon: Many climbing gears use nylon. Your rope and harnesses probably have this material. That is because nylon can be stretchable. They are also durable. Nylon clothing is water repellent. However, they dry slower than polyester. Additionally, they can retain body odor.
Elastane: Elastane is usually referred to as Spandex, which is the fabric's brand name. It is often used in rock climbing clothes because of its stretchability. However, it is not durable on its own and is prone to tearing. That said, combining elastane with a different fabric can give you a durable and stretchable pair of pants.
Softshell: Softshell fabric is synthetic. It offers some wind resistance and is a bit water repellent. Pants made from softshell are stretchy, abrasion-resistant, and lightweight. 
Durable Water Repellent: Many rock climbing pants are chemically treated so that they become water repellent. A good example of this is durable water repellent (DWR) pants. 
Features
When choosing women's rock climbing pants, it is important to look at the features. Get a pair that best fits your needs as a climber. Do you need pockets? Is the waistband compatible with your harness? Does it have a gusseted crotch? Are the closures secure? What about belt and chalk bag loops?
Fit
Your climbing pants should fit, but they should not feel tight. They need to feel light enough so that you can easily move. At the same time, they should be suited for the weather. For instance, when you are climbing in cold weather, your climbing pants should give you enough room to wear synthetic leggings or wool underneath.
For tall climbers, you may want to choose pants with a longer inseam. This way, you can make sure that your pants will not hike up over the ankles as you climb. Climbers on the shorter side may find a shorter inseam better.
Best Rock Climbing Pants for Women
Finding the right pair of climbing pants can be challenging. With all available options, it can also be a bit overwhelming. Oftentimes, the best product recommendations don't come from manufacturers or retailers — they come from other women in the rock climbing world. Check out these personalized recommendations from some of our ambassadors:
Material: 98% Organic Cotton and 2% Spandex
Features: Has an integrated waistband regulation, elastic waistband and bottom hem, two front hand pockets, and one back pocket
Fit: Regular/Standard Fit (a bit loose but not baggy)
Recommended by our ambassador, Libby Kasmer:

"I certainly have a favorite climbing pant, but I think that you can climb in anything that allows you to be flexible and comfortable. I don't think that you need to go out of your way to buy an expensive brand pant. However, If you do want to buy a specific climbing pant I would highly suggest the La Sportiva Tundra. They're extremely comfortable. They don't fall down but they're not tight around the waist. They have elastic around the ankle so they stay above your heel, which I find helpful when heel hooking. Plus, a fun bonus is that they come in bright fun colors."
Material: 86% ripstop and 14% spandex 90D stretch woven ripstop
Features: Button and zipper fly, zip thigh pocket, brushed tricot-lined waistband, articulated knees, drawcord cuff closures, harness-compatible waist, internal drawcord waist, and belt loops
Fit: Regular/Standard Fit (a bit loose but not baggy)
Material:  85% Polyamide and 15% Spandex; DWR treatment on outer material
Features: Two slit pockets with zipper and
Fit: Regular/Standard Fit (a bit loose but not baggy)
Material: 85% polyamide and 15% elastane
Features: water repellent, one map pocket on the thigh, two side pockets, pre-adjusted and adjustable hem, adjustable merino waistband with hook and loop fastener, and anatomically shaped knee area
Fit: Regular/Standard Fit (a bit loose, but not baggy)
All 3 recommended by our ambassador, Katie Beringer:

"I think your pants matter! All my climbing pants have to allow for full range of mobility. So even though it's very cool to climb in jeans, it rarely works for me. After that, I pick my climbing pant based on the temperature and style of climbing. If it's cold or the climbing will require lots of scraping, like chimneys or wide cracks, I pick a thicker pant. If it's hot and the climbing is face climbing or slab climbing, I pick a light, breathable pant. I almost always climb in the lightweight Outdoor Research Ferrosi pants or the thicker Mammut Runbold Guide SO pants. I also recommend Ortovox's Vajolet pant for summer climbing! If I'm trying on pants for climbing, I try to lift my knees up as far as I can to see if the pant fit is encumbering my movement or is stretching the fabric/stitching to its limit."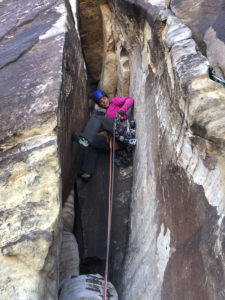 Material: 88% Nylon and 12% Spandex
Features: Leg pockets, adjustable drawcord waist, and reinforcements at the seat and knees, 
Fit: Skinny Fit (tight fitting)
Recommended by our ambassador, Kate Kelleghan:

"I have always loved climbing in leggings, so I am always on the lookout for durable, well-made leggings. NW Alpine – Alpine Tech Leggings are one of my fave leggings to climb in. They have reinforcement in the knees and butt as well; they also have been put through the ringer and withstood quite a beating. They ride lower than most leggings which may annoy some people. They've got pockets big enough for phones. The best part is they come in a fun bright pink color! 
View this post on Instagram
Material: 98% Organic Cotton and 2% Elastane
Features: elastic waistband and cuffs, reinforced knees, seat gusset, two hand pockets, and two rear pockets
Fit: Loose-fitting
Recommended by our ambassador, Marie-Andree Racine: 

"You want pants with a material that is stretchy enough for you to be able to move without any restrictions. I have 2 favorites depending on what kind of climbing it is and the temperature.

On hot summer days, I like climbing in tights and especially the EVCR tights. On a regular climbing day, gym session or when I'm out bouldering or on longer multi-pitch, I like loose-fitting pants that are a little thicker to protect me from the rock. My personal favorites are the Black Diamond Notion."
Aside from comfort, these climbers check for breathability, stretchability, durability, and features. Now that you have an idea of the best women's rock climbing pants, consider learning more about how to find the right rock climbing shoes and the best climbing harness!

McKenzi Taylor founded Rock Climbing Women in 2013 after moving to a new city as a new climber seeking more climbing partners (and new friends!). Since her first taste of climbing in Spearfish Canyon, SD, McKenzi has been at the rock face seeking and sharing the thrill of climbing. She credits the support of a consistent climbing partner and community as the motivation to continue developing her skill, whether it's trad, sport climbing or bouldering. A full-time business owner and mother, McKenzi's on a mission to get her kids outside and learning to adventure alongside her.