Rock climbing is a challenging activity.
It can push you to your limits and allow you to overcome a lot through hard work, patience, and proper training.
One of the most important pieces of gear you need to have is a rock climbing harness.
Getting your first harness is a big step.
But with the many options available in the market, picking one can be overwhelming.
What Is a Rock Climbing Harness
Before purchasing a rock climbing harness, you need to understand what it is first.
It is composed of different parts.
Waistbelt
The wide opening found at the top of a harness. You tighten this above your waist to make sure you do not fall out of the harness itself.
Leg Loop
Helps you stay upright in the event of a fall. They help disperse your weight while hanging in the climbing harness.
Gear Loop
Holds the gear. The gear loops are where you clip on your stoppers, quickdraws, belay devices, and cams, among other things.
Belay Loop
The strongest point on a harness. It runs vertically between two tie-in loops. Belaying refers to the use of a rope system to support and protect a climber.
Tie-in Loops
Connected by the belay loop. These are the points where you tie the rope when climbing. You can find one attached to the waistbelt and another to both leg straps.
Elastic Rises/Straps
The distance between the waistbelt and leg loops. You use these to adjust the rise of your harness.
Haul Loop
Found at the back on top of the waistbelt. It is usually made out of a cord or plastic and is used to channel the rope behind you to ensure it is out of the way. This can also be used to carry different items.
Buckles
Ensure that the harness fits well. You adjust these for the harness to fit your frame.
Why Is a Rock Climbing Harness Important
A rock climbing harness is necessary equipment.
Some may even say that it is the most essential gear you should have.
Generally, it supports the climber by connecting them to the rock.
In case you unexpectedly fall, your harness will support you.
Additionally, it also holds all of the other gear you may need to finish the route you are climbing.
How Long Should a Rock Climbing Harness Last
In general, a rock climbing harness has a certain lifespan.
They typically last for one to three years.
If used daily or weekly, it can be good enough for a year.
If you only use it a few times per month, it can reach up to three years.
However, a harness that is not in use and is properly stored can last up to 10 years.
Keep in mind that how you use your harness will affect its lifespan.
Make sure to regularly inspect your harness to make sure it is still safe to use.
How to Find Your Size
Choosing a rock climbing harness requires a lot of consideration.
But perhaps one of the most crucial is the size.
To find the right size, you have to consider three major factors.
First is your waist.
The waistbelt should be above your iliac crest.
You can find it at the top of your hip bone.
Make sure the harness is tightened down so that it cannot be pulled below your iliac crest.
Second, check the leg loops.
While not as critical as the size of the waistbelt, you have to make sure that the leg loops are right for your legs.
You can opt for adjustable leg loops if you want.
The third thing you should consider is the rise.
You should have a harness that allows you to hang in a balanced and comfortable position.
A rise that is too short can cause you to tip backward.
If it is too long, more weight will fall on the waistbelt. This makes it difficult for you to balance your weight.
Important Questions to Ask
Here are the most common questions you should be aware of to help you get started:
How much weight can a rock climbing harness hold?
Instead of weight, the rate of a harness is determined by the force it can hold.
Generally, the harness should be able to hold at least ~3,300 lbs or 15kN of force with the belay loop and ~2,200 lbs or 10kN of force with the waist belt.
How should a rock climbing harness fit?
When sizing your rock climbing harness, make sure that it is snug.
However, it should not be too tight.
Have around three to five finger widths of tail left on the straps after you buckle them.
If you do not know where to start looking, here are two of the top harnesses for beginners: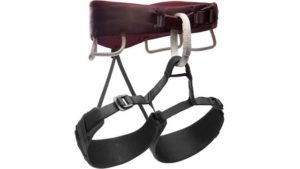 Black Diamond Momentum
An all-around harness with adjustable legs, adjustable rear elastic riser, and brightly colored front loops for easy identification. Buy on OpticsPlanet.com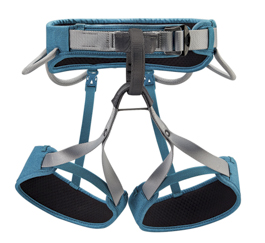 Petzl Corax Climbing Harness
A versatile harness with a double-buckled waist loop, adjustable leg loops, and four gear loops. Buy on Petzl.com
A rock climbing harness is not the only equipment you need when rock climbing.
It is also important to wear the right shoes.
Learn about the best rock climbing shoes here.
SIGN UP FOR ROCK CLIMBING NEWS

McKenzi Taylor founded Rock Climbing Women in 2013 after moving to a new city as a new climber seeking more climbing partners (and new friends!). Since her first taste of climbing in Spearfish Canyon, SD, McKenzi has been at the rock face seeking and sharing the thrill of climbing. She credits the support of a consistent climbing partner and community as the motivation to continue developing her skill, whether it's trad, sport climbing or bouldering. A full-time business owner and mother, McKenzi's on a mission to get her kids outside and learning to adventure alongside her.