Buying your first harness? That's excellent — we'll catch you on the rock face!
Before you gear up, what are your main needs in a harness? What should you think about and look for? And, does it really matter what harness you buy?
Your harness should adhere to the climbing you do most regularly.
At first glance, two harnesses might not seem much different, but it definitely helps to have specific functionalities on the wall.
Climbing harnesses are divided into four main categories: gym climbing, trad climbing, sport climbing, and alpine.
You can find full-body harness adaptations as well, but these are more catered to body types rather than climbing niche.
Key Differences of a Trad Climbing Harness
Trad climbing harnesses improve upon padding and the number of gear loops.
Since you'll be hanging from the rock face more than you'll be climbing, it's important to be comfortable.
Look for:
Extra lumbar padding for the spine and waist

Adjustable, padded leg loops

Larger and more heavy-duty gear loops (at least 4)

Haul loop
The majority of trad harnesses are adjustable so you can climb year-round.
The leg loops have additional padding so you don't lose blood flow as you're setting the route.
The haul loop is added in case you need to bring an extra rope up with you.
Plus, you have extra (and needed) back support in the waist belt.
6 Best Trad Climbing Harnesses
#1. Top in Trad:
Mammut Ophir 3
Price Range: $60–$70

4 Gear Loops

Adjustable leg loops

Weight of Harness: 14.8 oz.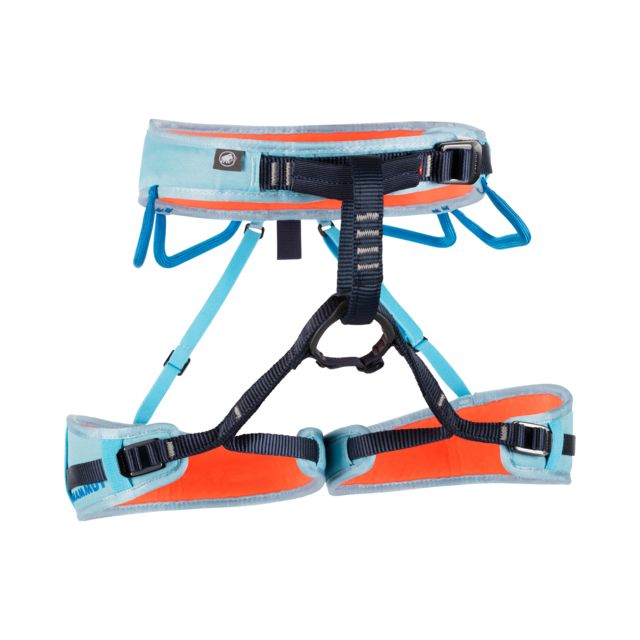 Mammut Ophir 3 Slide Harness
Made with high-quality, split-webbing technology, this innovative harness works on rock or ice.
Its adjustable leg loops and waist belt allow you to pile on layers to keep warm or climb in T-shirt weather.
The haul loop is durable for carrying bulky, heavy ropes up any surface without compromising your spine.
#2. Best in Show: Petzl Aquila
Price Range: $90–$110

4 Gear Loops

Adjustable leg loops

Weight of Harness: 11.3 oz.–15 oz.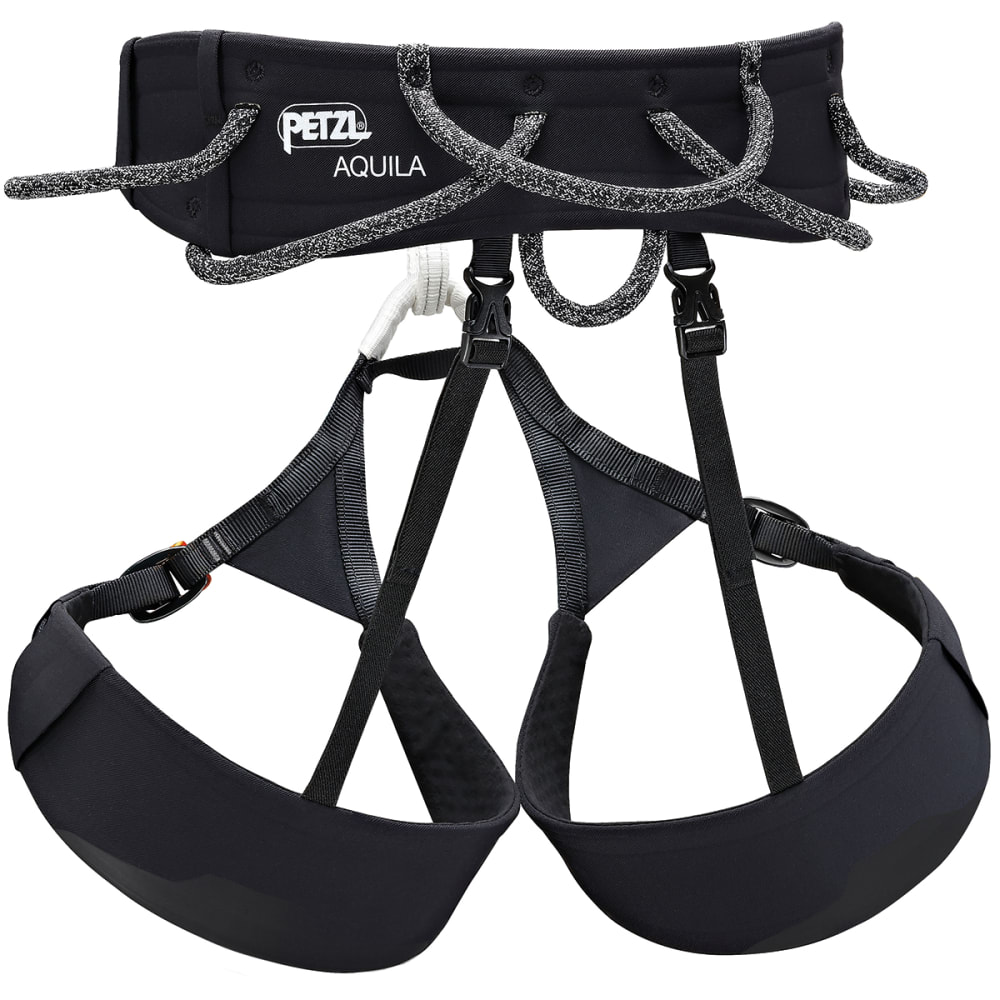 PETZL Aquila Climbing Harness
This harness is up for anything and down for everything.
It's one of the most comfortable harnesses for hanging off multi-pitches.
Manufacturers thought the design through and made rigid front gear loops for quick unclipping, while back gear loops are flexible and lean forward.
There is no heavy-duty haul loop on this harness, only a chalk bag holder.
#3. Trad Lightly: Petzl SITTA Harness
Price Range: $180–$210

4 Gear Loops

Non-adjustable leg loops

Weight of Harness: 9 oz.–10 oz.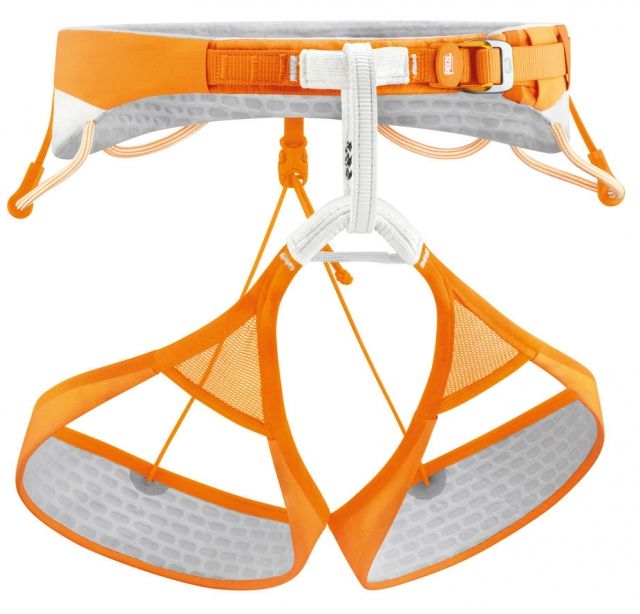 Petzl Sitta Harness
The Petzl SITTA comes with leg loops and a waist belt reinforced by Wireframe technology and built to last.
There are no buckles pinching while you climb but it's also non-adjustable in the legs, which can be a problem in the cooler months.
No-friction stitching plus a thoughtfully constructed waist belt means no pressure point pain — huzzah!
#4. Indestructible to Rock: Black Diamond Vision
Price Range: $120–$150

4 Gear Loops

Non-adjustable leg loops

Weight of Harness: 7 oz.–8 oz.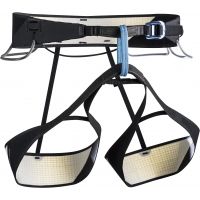 Black Diamond Vision Harness
"We will rock you," says the Black Diamond Vision harness.
This bad boy doesn't take wear for an answer, so it's known to be one of the most durable harnesses in the climbing arena.
It's slim and sleek, quick-drying, and features a haul loop.
It's not as padded as the other harnesses, so keep that in mind if you spend a lot of time hanging out.
#5. A Fifth Gear Loop: Black Diamond Solution Guide
Price Range: $90–$110

5 Gear Loops

Non-adjustable leg loops

Weight of Harness: 14 oz.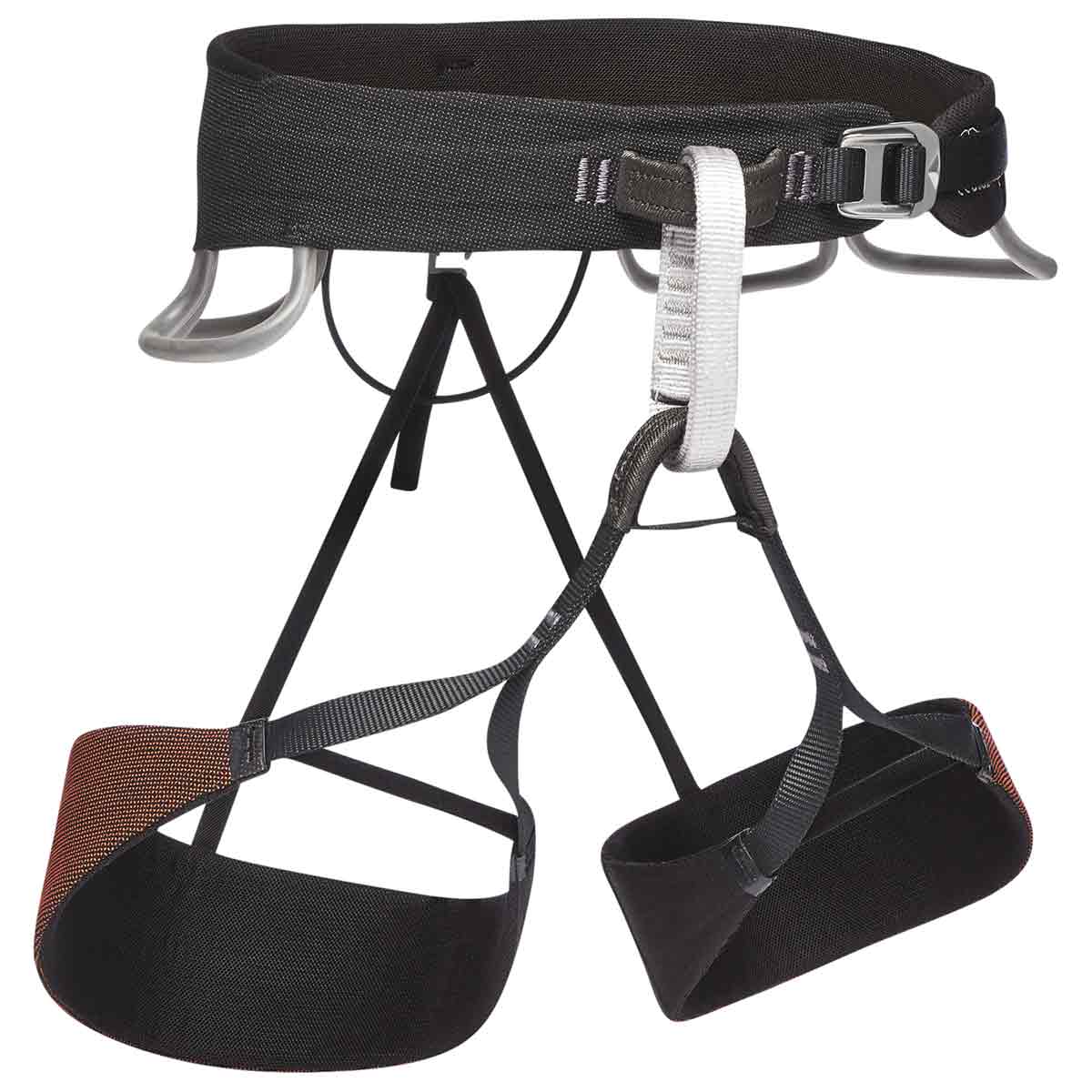 Black Diamond Women's Solution Guide Harness
This budget-friendly pick has a fifth gear loop for extra add-ons you don't want to leave behind.
It weighs in heavier than the others but it comes fully reinforced with its individual version of split-webbing technology.
It's made from abrasion-resistant material that can withstand all the chimneying and smearing you'll need to reach the top. 
You won't able to ice climb with this harness though — stick to the rocks.
#6. Safety is Key: Metolius Safe Tech Trad Harness
Price Range: $100–$130

4 Gear Loops

Adjustable leg loops

Weight of Harness: 15 oz.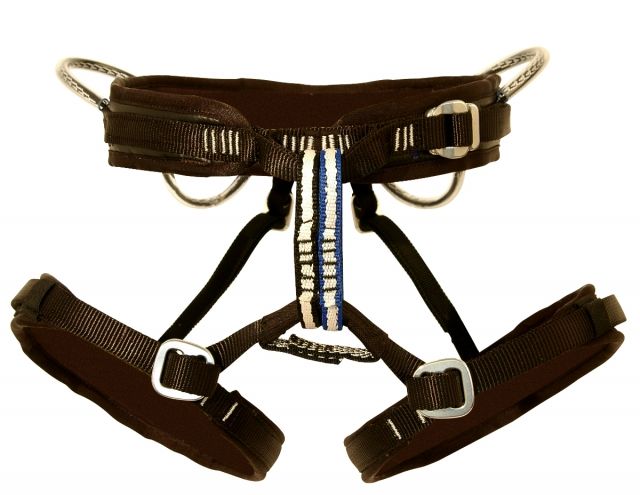 Metolius Safe Tech Trad Harness
The bulkiest contender on the list pulls out all the stops when it comes to safety.
It's overbuilt visually and materially but cannot be rivaled in its load-bearing capability.
The Safe Tech harness was designed with a long hanging period in mind, keeping climbers feeling comfortable and secure during their ascent. 
Fun fact: Many search and rescue personnel use this harness for missions, so you're in great hands. 
Choose the Best Trad Harness for You
Most of our top picks are adaptable to any weather or season, which is another reason why we love them.
There's no doubt that your dream trad harness is on this list, waiting for you to strap in for the next route!
When in doubt, refer back to the tips above or check out our harness guide for additional assistance.

McKenzi Taylor founded Rock Climbing Women in 2013 after moving to a new city as a new climber seeking more climbing partners (and new friends!). Since her first taste of climbing in Spearfish Canyon, SD, McKenzi has been at the rock face seeking and sharing the thrill of climbing. She credits the support of a consistent climbing partner and community as the motivation to continue developing her skill, whether it's trad, sport climbing or bouldering. A full-time business owner and mother, McKenzi's on a mission to get her kids outside and learning to adventure alongside her.