Rock climbing is an outdoor and indoor sport enjoyed by over 35 million climbers worldwide.
The climbing community is a friendly space where climbers share techniques for difficult routes, cheer you on when you complete your goal, and offer a belay.
New climbers are intimidated after watching viral documentaries on Netflix, like Free Solo.
Rest assured, you'll be safely attached to a rope for all your outdoor climbing activities.
Let's get you feeling confident about your first climb and ready to ask for a climbing partner. Let's get started!
Where is the best place to learn rock climbing?
What gear do you need to start rock climbing?
How does the rating system work?
How to get better at rock climbing?
What is rock climbing?
There are many different ways to climb a rock; the three most popular are trad, sport, and indoor climbing.
However, there are lots of different names for all the unique types of rock climbing.
Indoor climbing consists of top-roping; being attached to a rope and climbing above 15 feet, or bouldering; climbing to a maximum of 15 feet without a rope.
Traditional climbing is geared towards professionals who place safety mechanisms in the rock as they ascend.
Sport climbing is also a bit more challenging. Climbers will clip into bolted safety loops as they maneuver up the route.
5 Essential Climbing Terms
The more you know, the more you'll understand conversations at the crag. Here are five commonly used rock climbing terms:
Belaying — the act of running a rope from person to anchor for safety. The person taking rope while you climb is called a belayer. Before you climb, they'll say "Belay is on!" and this signals you're safe to start ascending.
Boulder problem — the goal route that a climber is working.
Beta — one of the ways to climb a route; climbers ask other climbers for beta all the time to see how to climb their projected route with the best technique.
Flash a route — if a climber "flashes" a route, it means they climbed it in one go without mistakes or breaks.
Pitch — part of the route that takes a full length of the rope. There are single or multi-pitch routes.

Where is the best place to learn rock climbing?
The ideal setting for your first go at rock climbing is your local rock gym. There you'll be able to learn hands-on from certified instructors so you'll feel safe on the wall.
Your first rock climbing training session will teach you all about:
Falling correctly
Reading a route
Sizing your climbing shoes
Fitting your harness
Once you understand the basics, find a partner to take turns belaying on the rock wall.
What gear do you need to start rock climbing?
For your first climb, remember to wear comfortable clothing.
When wearing a climbing harness, shorts hike up, so wear longer capris to minimize flashing your belayer.
You'll also want to keep your knees and elbows covered during your early climbing days.
These areas are the first to graze the wall if you fall awkwardly or attempt harder techniques, like smearing.
Rent your gear to figure out what you like and dislike about the fit.
This is especially true with climbing shoes — advanced shoes fit tight, curling your toes, while beginner shoes are flat, but your feet should fill the tip of the shoe snuggly.
A beginner's rock climbing kit includes:
Climbing Shoes
Climbing shoes fit tight. Your first pair of rock shoes are like your second skin.
They'll mold to your feet with time. All the blood, sweat, and tears you pour into your climbing training will be forever commemorated in their soles.
Start with flat, sticky-soled shoes with an affordable price tag.
Our two recommendations are:
La Sportiva Tarantulaces – $80
Mad Rock Drifters – $50
Climbing Harness
Buckle up and double back before you hit the rock climbing wall.
A good climbing harness should be comfortable, fit over your hips well without pinching, and make you feel protected.
If you don't feel secure in your harness, you won't climb your best.
Here are our top three harness picks: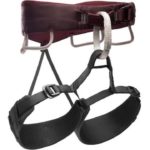 Download our rock climbing checklist to make sure you have everything you need on your first climb!
Belay Device and Carabiner
If you're feeling uncomfortable about belay without a secondary failsafe, purchase a Grigri instead.
This device functions like a belay but has built-in locking mechanics that act as an assisted brake.
For traditional belay devices, we recommend:
For grigris, we recommend:
Climbing Chalk and Chalk Bag
Since you can't customize your gear, climbers get creative with their chalk bags. Many online retailers offer choose-your-own designs.
8BPLUS has a line of adorable monster chalk bags that are too cute not to buy!
In terms of climbing chalk, it's up to your personal preference:
Best Chunky: Metolius Super Chalk ($18)
Best Mix: Black Diamond White Gold ($15)
Best Fine Powder: FrictionLabs Unicorn Dust ($17)
Chalk Ball: FrictionLabs Magic Chalk Ball ($10)
How does the rating system work?
In the rock climbing gym, boulder routes are rated on the V scale.
V0 is for entry-level and feels like climbing a ladder.
V1-V2 are beginner ratings, slowly warming up to intermediate rankings.
V Scale: Indoor and Outdoor Bouldering
| | |
| --- | --- |
| V Scale | Difficulty Level |
| V0 | Entry |
| V1–V2 | Beginner |
| V3–V5 | Intermediate |
| V5+ | Advanced |
The top rope wall is rated by the Yosemite Decimal System (YDS), and shown from 5.5 and up. A 5.5 indoors is usually a 5.6 outdoors, or a 5.7 for leading. Outside of the US, outdoor climbers use other rating systems.
YDS Scale: Indoor, Sport, and Trad Climbing
| | |
| --- | --- |
| 5 Scale Rating | Difficulty Level |
| 5.5–5.7  | Beginner |
| 5.8–5.10 | Intermediate |
| 5.11–5.12 | Advanced |
| 5.12+  | Expert |
For now, just focus on climbing routes that feel good to your body. You'll learn to master your technique with time and observation.
How to get better at rock climbing?
Practice, practice, practice.
Climbing is a sport that builds muscle groups that aren't activated every day.
Your grip strength is the pinnacle of how well you stick to the wall.
After some time, your footwork will improve and you'll understand how body positioning makes all the difference.
Here are some tips if you ever find yourself plateauing, figuratively speaking.
Before you go, download our rock climbing checklist to make sure you have everything you need on your first climb!

McKenzi Taylor founded Rock Climbing Women in 2013 after moving to a new city as a new climber seeking more climbing partners (and new friends!). Since her first taste of climbing in Spearfish Canyon, SD, McKenzi has been at the rock face seeking and sharing the thrill of climbing. She credits the support of a consistent climbing partner and community as the motivation to continue developing her skill, whether it's trad, sport climbing or bouldering. A full-time business owner and mother, McKenzi's on a mission to get her kids outside and learning to adventure alongside her.