Most of us started our climbing love affair with five essential pieces of gear: shoes, climbing harness, chalk bag, locking carabiner and belay device. In this article, I will share with you everything I've learned since I bought my first five essentials, plus one more I added to this list for all skill levels.
Shoes
I believe I hold the strongest opinion about shoes, so I'll start there.
When I first started climbing the folks at my gym told me I really needed to size down in my climbing shoes from my normal street shoe size.
In theory, this fit makes it somehow easier to smear and edge and feel the rock. I've heard this advice over and over again and I'm here to encourage you to go for what feels good on your feet!
The folks giving you this advice may be correct — but really only as it pertains to Future You.
Current You is here to do loads of climbing.
As beginner climbers, we need to develop that foundational strength, stamina and muscle memory that will help us become experienced climbers and we do that by doing lots of easy and moderate climbing that progresses to harder climbing.
What I discovered while I was putting my time in at the easy level with my super small shoes was that my shoes were giving me blood blisters and, even if I wanted to climb more than one route, my feet hurt too much to keep going. Not ideal.
When you go to purchase your first pair of shoes, resist the temptation to go smaller and, whatever you do, do not fall for the "they'll stretch as you wear them, you just have to break them in" line.
This inevitably results in you wearing your shoes in the shower with dubious results.
My advice is to aim for a shoe that is comfortable out of the box and moderately priced.
These are two I recommend checking out:
At just under $100, Scarpa's Helix is a great pick. The Helix is not at all aggressive, so your feet are pretty flat in them.
This flatter style is often popular with trad climbers because they feel better in cracks, smear well on slabs and are comfy for those all day multi-pitch climbing routes. Not just built for comfort, the shoes' stiff edges feel solid on the kind of face holds associated with sport climbs too. From gym to crag, this shoe has got you and your feet comfortably covered.
La Sportiva's Finale is a little more aggressive so it forces your toes into a more downturned position.
This downturn is most often desirable amongst sport climbers. While you won't get the all day comfort that the Helix offers, the slight downturn will feel great on the wall. At $109, it's just about in the middle of Sportiva's price range while using the same rubber as some of their higher end shoes.
Both of these shoes have great quality for a great price, but there are tons of other climbing shoes out there.
Consider heading to your local gear shop and trying lots of different styles and brands to see what feels good on your feet and fits your price range.
A couple of pro-tips:
Gyms will often have demo days and these are a great opportunity to try out all the shoes a brand has to offer by actually climbing in them.
If you have wide feet (or even not particularly narrow feet), give the men's version a try as they tend to have wider toe boxes.
Belay Device
Rock climbing gear for beginners is really gear you will use for years to come and this is especially true of your belay device.
First-time buyers have two different options to choose from in this department: you can either use a tubular device or one with assisted braking.
The truth is you'll probably feel the need to have both one day but, for now, pick one and get really good at it.
An example of a tubular device would be Black Diamond's ATC.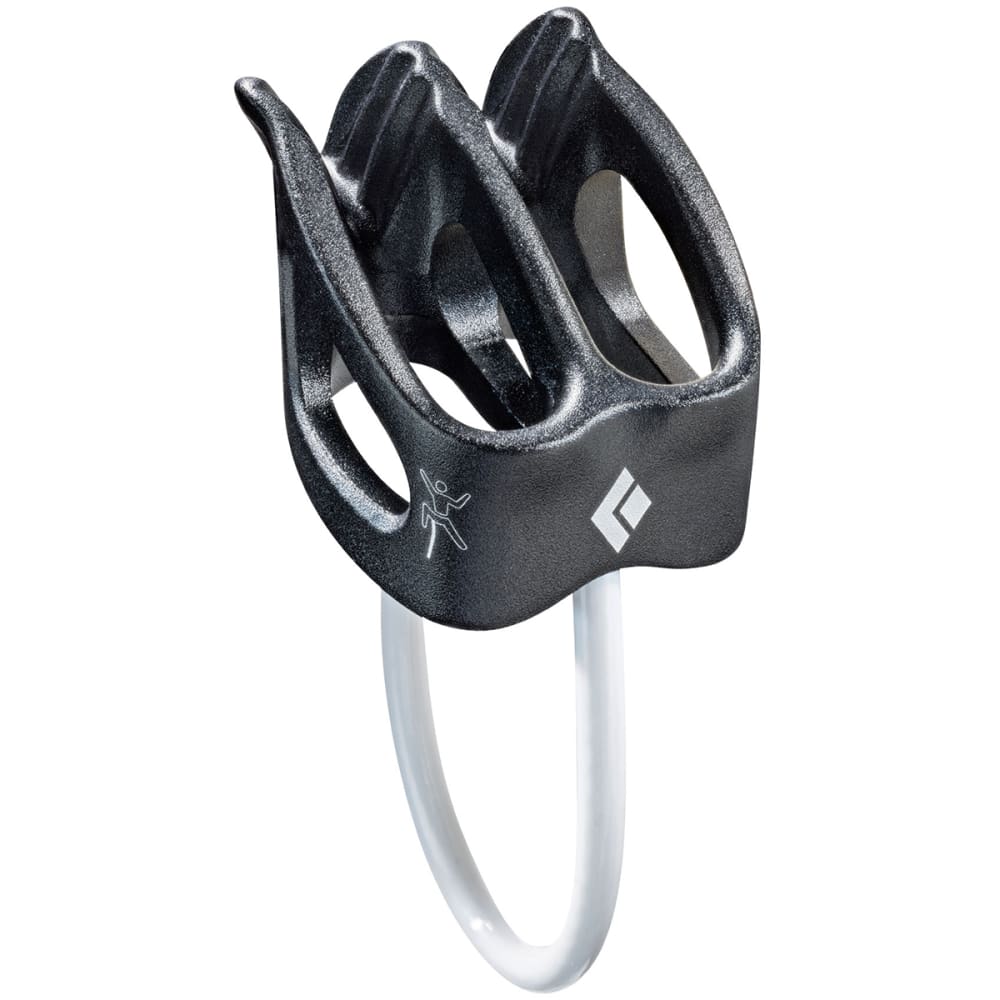 With a price tag of $24.95, the ATC is both a bargain and an excellent long-term investment. New climbers can belay on top rope with it and, when they are ready to lead climb, they'll also be able to use it for lead belaying!
Petzel's Grigri is an assisted braking device that is great for top roping.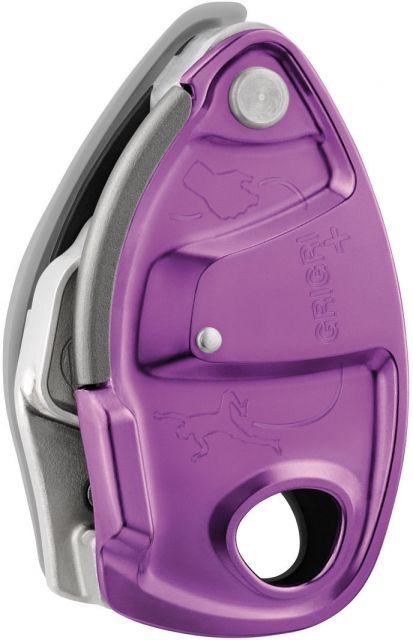 Assisted braking devices are more expensive (the average price of a Grigri is $100) and heavier than the ATC but come with an added layer of safety by locking down on the climbing rope when your partner falls. By locking down, it helps you catch and hold your partner's fall. One drawback of the Grigri for many users is that it is tricky to get the hang of it for lead belaying.
Locking Carabiner
If you are going for a tubular belay device, I recommend the Black Diamond Big Air XP Package.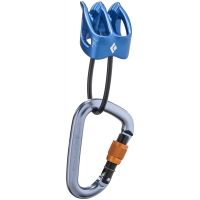 For $34.95, you get an ATC and a screw gate locking carabiner — and now you're just one step from completely kitting yourself out with your climbing equipment essentials.
On the other hand, if your heart is set on a Grigri, Petzl recommends their Sm'D Lightweight, Compact, Locking Carabiner with a Twist Lock.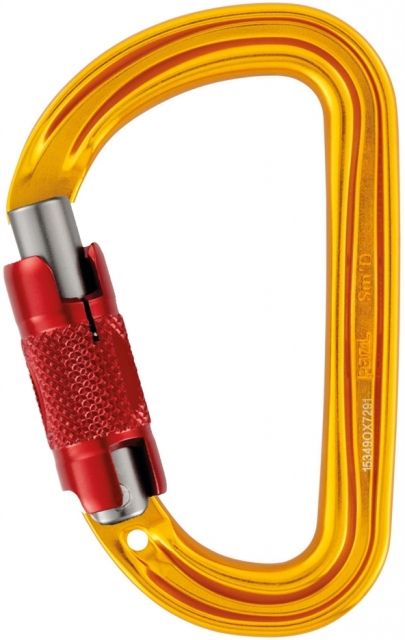 It is a pricey locking carabiner at $18.95 but does have the added twist lock safety feature. Petzl's Sm'D has double-action automatic locking, which means if your gate is closed, your gate is locked and requires two actions to unlock. This is different from a screw gate that requires you make sure you've screwed your gate closed and double-checked with the "squeeze test."
Harness
Deciding what harness you want definitely isn't as hard as picking out your first shoes but there are a few things to consider.
Harnesses come in sizes ranging from XS to XXL, so the first thing you'll want to do is look at the sizing guide for each style and brand.
There are women-specific and men-specific harnesses but, ultimately, I'd go for whatever comes in your size and feels comfortable on your body.
Once you've found the right size for you, make sure the leg loops fit you well and that it's easy for you to get in and out of the harness.
Also check that the gear loops are placed well for you and easy to reach.
Hand-picked related article: Finding a Rock Climbing Harness
Both REI and many climbing gyms sell starter packages that can include your harness, chalk bag, belay device and locking carabiner. Sometimes they even come with a bag of chalk!
Black Diamond's Momentum Climbing Harness Package really can't be beat. For under $100, you've got everything you need to get started except the shoes.
C.A.M.P.'s USA Energy Nova Harness Package includes your belay device and locking carabiner for $79.95. Using my personal shopping logic, this leaves you $20 to put towards the chalk bag that speaks to your heart.
Speaking of chalk bags…
Check out this hand crafted chalk bag by woman-owned Oterra Designs.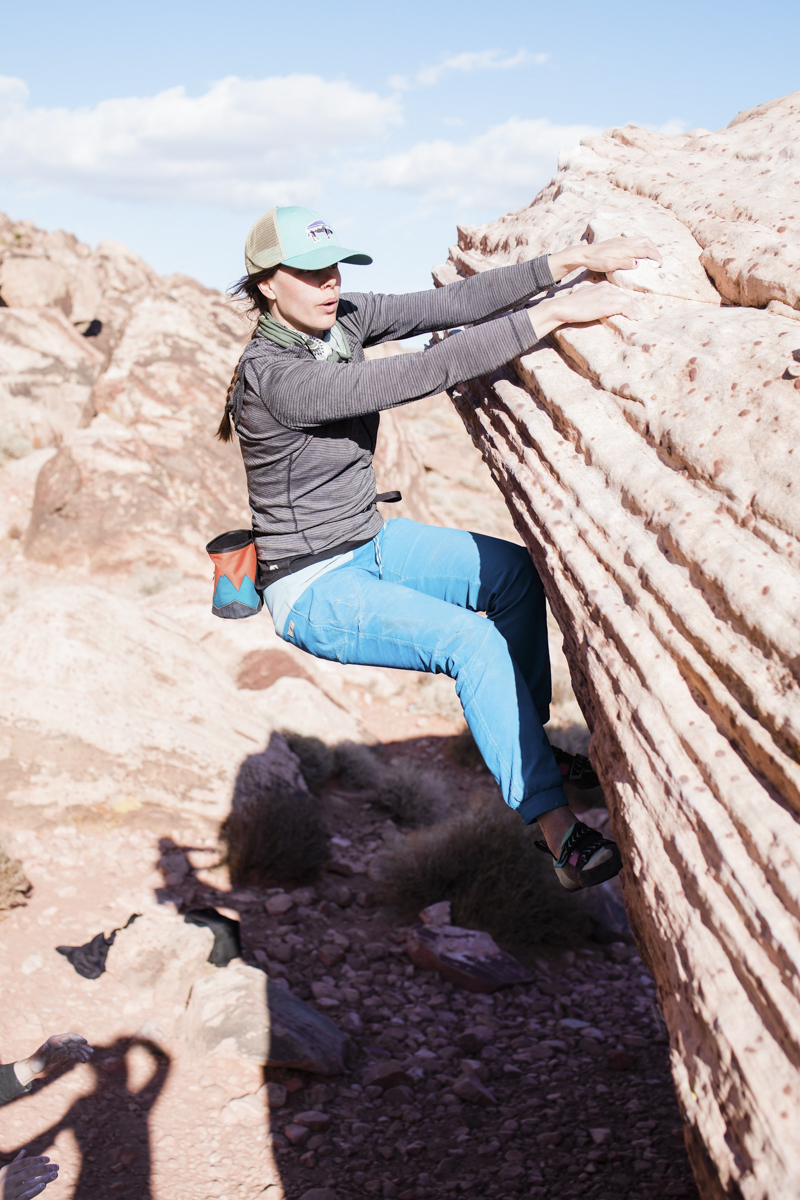 Looking for a gift for a rock climber? Get our favorite recommendations for practical gifts under $50 that they'll love.
Climbing Helmet
There is one final piece of equipment that wasn't part of my initial essential 5 pieces of climbing gear but now I don't go anywhere without it: my helmet.
Helmets aren't needed for gym climbing but are a crucial piece of equipment when climbing outside.
Helmet's help protect you from rock (or gear) that may fall from above you.
It also protects your noggin on the wall when you get into lead climbing.
If you are headed outside with your new kit, definitely get yourself a helmet as well.
Petzl's Unisex Boreo Climbing Helmet is $59.95 and comes in six colors! Do it!
Nerding out on gear is my second favorite thing after climbing. If you can relate, check out our series on Essential Rappelling Gear and sign up for our newsletter below — there is more gear talk to come!

McKenzi Taylor founded Rock Climbing Women in 2013 after moving to a new city as a new climber seeking more climbing partners (and new friends!). Since her first taste of climbing in Spearfish Canyon, SD, McKenzi has been at the rock face seeking and sharing the thrill of climbing. She credits the support of a consistent climbing partner and community as the motivation to continue developing her skill, whether it's trad, sport climbing or bouldering. A full-time business owner and mother, McKenzi's on a mission to get her kids outside and learning to adventure alongside her.