Are you looking for a new fun-filled and adrenaline-boosting fitness pursuit?
While it may seem like an activity only suitable for daredevils, rock climbing can actually be a good option for everyday adventurers. Being fit, having proper instruction, and getting the right climbing equipment can help you.
Perhaps one of the most important pieces of equipment climbers should put a lot of thought into is what pair of shoes to wear. The importance of rock climbing shoes cannot be denied. After all, they are the interface between the rock you are climbing and your body.
Selecting Shoes for Rock Climbers
Finding the best women's rock climbing shoes for beginners can seem overwhelming at first. With all the options available to choose from, it can be a bit confusing for new climbers.
Getting the wrong shoe can cause issues during a climb, so it's crucial to know how to select the right pair. Generally, there are three main factors you should consider — type, features, and fit.
Type
Depending on the type of climbing you are planning on doing, you will have to choose between aggressive, moderate, and neutral shoes.
o   Aggressive: very downturned toes
o   Moderate: slightly downturned
o   Neutral: relaxed fit and toes lie flat
Features
What would be included in your shoes? Consider the linings, straps, and rubber. Will your shoes have laces? Deciding on whether to lace up or not is based on preference.
Generally, climbers choose to have laces because they make it easy to tighten the shoes down to ensure a snug fit. However, some find laces getting in the way or causing pain, so they opt to not have them.
Fit
Sizing matters. The best option for you to be able to perform well while rock climbing is to buy shoes that fit snugly. However, they should not cause pain to your feet.
Top Options for Beginners
Once you figure out the kind of climbing shoes best for your needs, you can start looking for the right pair. Shop around and compare quality and performance. While price is a good consideration, what the shoes have to offer is more vital.
Here are the five best women's rock climbing shoes for beginners to help you get started with your search:
1. Butora Women's Endeavor Rock Climbing Shoes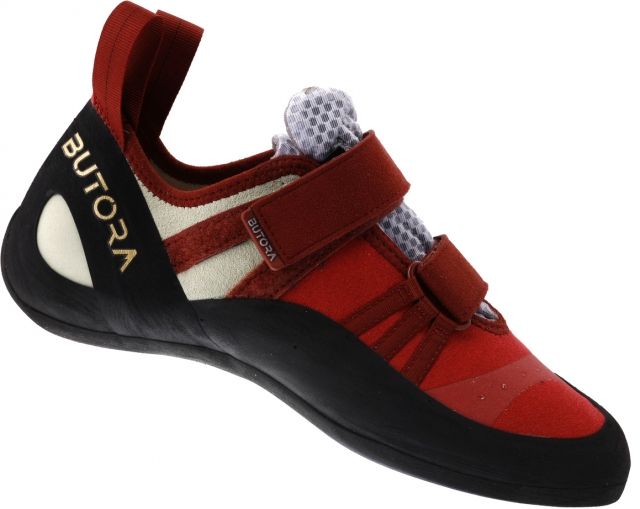 Even though Butora has only been in the climbing shoe world for a few years, it has already become well-known because of its innovative designs and great builds.
Butora's Endeavor is a top entry-level shoe. It's good for beginners and intermediate climbers alike.
If price is a concern, then this pair of shoes may also be a good option for you as it's affordable.
The Endeavor also offers a high level of comfort. You can choose between two widths — narrow or wide.
The closure is made of Velcro straps, allowing you to adjust it to ensure that it's snug up to your foot size.
Other special features include odor-minimizing hemp liner and soft memory foam tongue. These make Endeavor a great choice for climbing gyms.
2. La Sportiva TarantuLace Climbing Shoes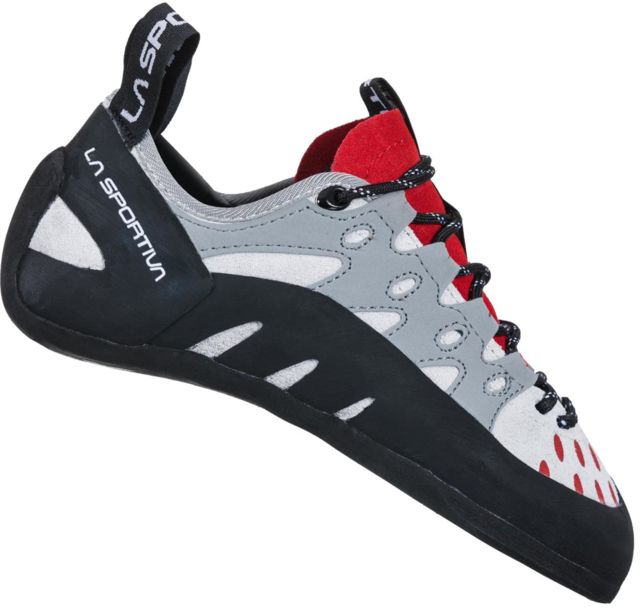 Buy on OpticsPlanet
TarantuLace is La Sportiva's affordable shoe created for climbing beginners.
It has an unlined leather design with an asymmetrical shape, helping you fulfill advanced performance without hurting your toes.
This shoe has an aggressive rubber heel, which allows you to stand on micro edges.
It's a great option for gym and outdoor climbers alike.
Additionally, the La Sportiva TarantuLace is affordable, making it the go-to option for individuals seeking versatility but having a limited budget.
3. Black Diamond Women's Momentum Climbing Shoes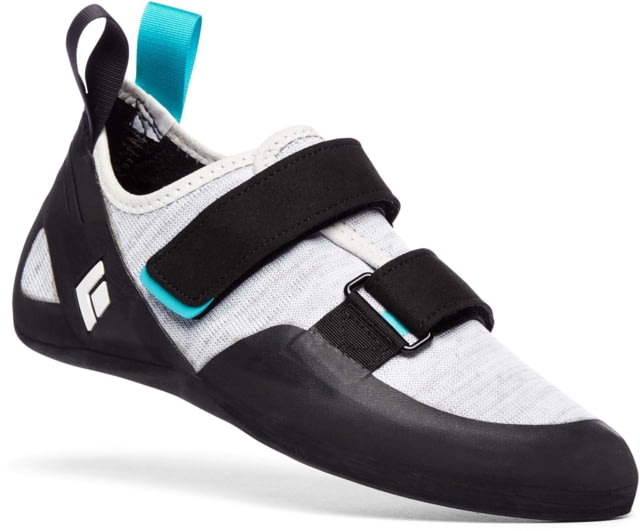 The Black Diamond Momentum climbing shoes have flat soles, and the Velcro slippers make it an ideal choice for beginners.
The price is reasonable, so it will not be too pricey even for newbies.
The design prioritizes all-day comfort.
The uppers of the Black Diamond Momentum are also breathable, which is an ideal feature for climbers.
The stiff soles of these shoes will help you deal with small holds.
These shoes are also a good option for vertical terrains.
4. La Sportiva Women's Katana Lace Climbing Shoes
The La Sportiva Katana Lace is a great all around workhorse climbing shoe.
Superb grip and tons of friction means this shoe performs well when climbing varying natural or artificial surfaces.
Availability in half sizes means finding the right size for your feet is easy.
People with more narrow feet like this shoe because it's a comfortable yet snug fit.
The slightly downturned shape is good for aggressive climbing, allowing beginners to transition to more technical challenges when the time comes.
The design gives climbers flex in the arch but rigidity where it's needed; a good combo of sensitivity and strength.
5. La Sportiva Women's Finale Climbing Shoes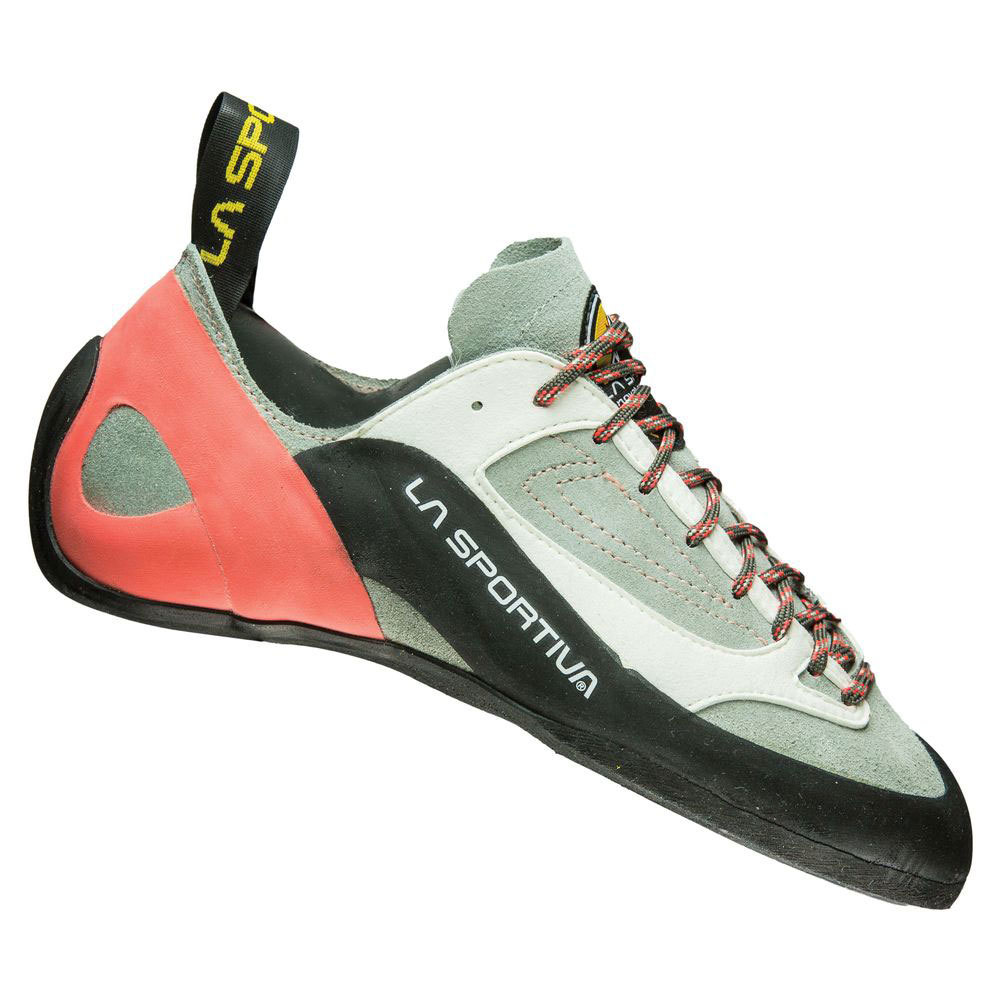 La Sportiva created the Finale climbing shoes as an entry-level option.
Its features help beginners get a feel for what it would be like to wear high-performance shoes.
They have stiff XS Edge rubber, which is a tensioned heel rand.
The proprietary P3 system applied to the shoes will hold the downturn of the shoe over time.
It's unlined, making it a perfect choice for new climbers.
Rock climbing offers many benefits when it comes to physical fitness. However, it's important to ensure that you have the right climbing gear and equipment to prevent accidents and issues.
Now that you have some great shoe recommendations, have you thought about your harness?

McKenzi Taylor founded Rock Climbing Women in 2013 after moving to a new city as a new climber seeking more climbing partners (and new friends!). Since her first taste of climbing in Spearfish Canyon, SD, McKenzi has been at the rock face seeking and sharing the thrill of climbing. She credits the support of a consistent climbing partner and community as the motivation to continue developing her skill, whether it's trad, sport climbing or bouldering. A full-time business owner and mother, McKenzi's on a mission to get her kids outside and learning to adventure alongside her.