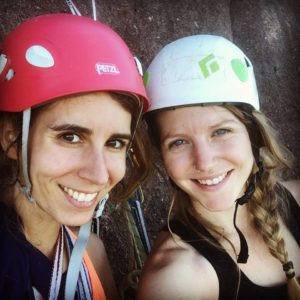 Recently, I completed my first big wall, female climbing trip through Brazil with a close friend of mine. We conquered three of the classic big wall routes in Brazil in one week by ourselves: 1) Moonwalker, Pedra Riscada (roughly the size of El Cap- we slept in hammocks on a bivy ledge at the top of pitch 12 before continuing on the next day to the summit and down), 2) Face Leste Pico Maior, Parque Tres Picos and 3) Face Leste + Maria Cebola, on the coveted Dedo de Deus. Everywhere we went, we ran into male climbers (we did not run into one single female climber- we want to change this!) who were awestruck at the project that we were attempting and succeeding at. It was such an empowering and emotional journey that boosted my confidence in climbing and everyday life. I hope that my story will reassure those in doubt about going after their own dreams that if there's a will, there's a way and dreams can become tangible if you push hard enough!
My name is Gretchen and I started mountaineering and climbing around 5 years ago. I grew up in the Pacific Northwest with snowcapped volcanoes and granite amphitheaters at my backdoor. While I dabbled in several sports growing up, it wasn't until my adult years that I discovered my true passion (and obsession) for climbing. I started out enrolling in the Mountaineers of Seattle's basic mountaineering course with the hopes of being able to adventure (without the need of a guide) to the tops of the peaks that run the length of Washington State.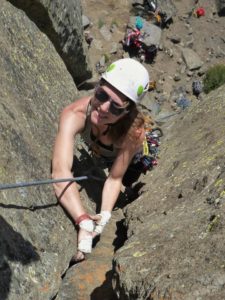 It was during this course that I found rock climbing. It was terrifying and exhilarating. The first time I went to the climbing gym I was so scared of heights that I only made it half way up the wall twice and then had to run 10 miles afterwards to stop myself from shaking. But I was determined. Climbing was like solving a mental puzzle physically with my body and became the one place where my mind would focus on solely one thing; all the stress or problems I had in my daily life would float away as I contorted myself to go higher.
In 2016, after the basic mountaineering course ended, I was hooked and already gearing up for an intensive multi-pitch trad course. While I love sport routes and the occasional boulder, multipitch routes quickly became my favorites (trad and sport). A multipitch climb, while you end up spending most of your time alone on the wall, is a team effort. It is a chance to not only completely engage with nature and an entire face (and summit… hopefully) of a mountain from bottom to top, but a time to grow and develop incredible climbing friend and partnerships. Relying solely on one other person 10 pitches up a mountain sparks a kind of trust in your partner and in yourself that I find difficult to encounter so quickly outside of this sphere. This bubbling excitement around multipitch climbing birthed a new personal goal for me: I didn't know how or when, but I was determined to big wall climb. Little did I know that a few short years from then, I would successfully scale three classic big wall climbs in Brazil in one week!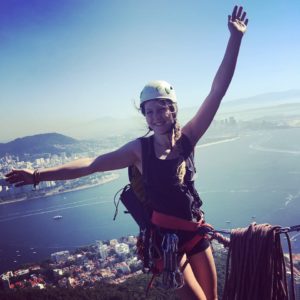 In April 2017 I moved with my husband (then fiancé) back to his home city of Sao Paulo, Brazil. While I was excited for the move, I was extremely anxious about climbing. I had visited one gym, Casa de Pedra (now my unofficial second home) in Sao Paulo, before but wondered: were there places to climb outside near the city? Would my dreams of big wall climbing have to be put on hold?
After a few months of Portuguese classes, I had enough courage to try to contact Clube Alpino Paulista (CAP), a local mountaineering club in Sao Paulo, in hopes of meeting other climbers who could give me beta on the local crags. It was here where I met several of my now closest friends and where my dreams of big wall climbing became a tangible reality.
One night, in February of this year, while attending a lecture on mountaineering in Antarctica at CAP, I met Valerie, an incredibly talented climber from Belgium who had also just moved to Sao Paulo for her doctorate. We hit it off right away and quickly discovered our shared ambition of scaling big walls. Neither of us had any previous experience big wall climbing but we were set on accomplishing this dream.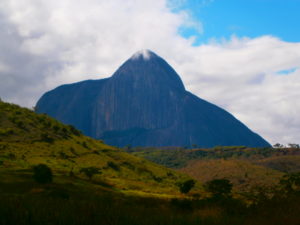 By April we had discovered that there were several sacred big wall climbs scattered around Brazil, the largest being Pedra Riscada in the state of Minas Gerais (a few years prior, Sasha DiGiulian and Felipe Camargo had released a climbing video about this place- you can check it out HERE); needless to say, this became our prime objective.
Given that we did not have a portaledge or have any experience with hauling, Pedra Riscada was an excellent first big wall objective for us because on top of the 12th pitch, on Moonwalker (our desired route), there is a ledge large enough for a team to bivy on. Moonwalker (5.10a) is the classic route up Pedra Riscada; it is comprised of 20-22 pitches and 1120 meters (3674 ft) in length.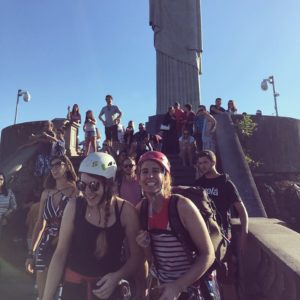 We aimed to do the climb in July, which gave us only 3 short months to train and prepare. We were both working and teaching (we were both instructors for the CAP basic mountaineering course during those months on many weekends), so training was mostly limited to the gym 2-3 times a week and during the occasional weekends when we were free. Six weeks before our big wall adventure, we decided to have a practice run in Rio de Janeiro. In three days, we climbed three of Rio's most iconic routes: 1) Italianos (5.10a), Sugar Loaf mountain 2) K2 (5.10a), Corcovado mountain (this climb leads up to the famous Christ the Redeemer statue) 3) Passagem dos Olhos (5.9), Pedra da Gavea. We were excited to see that our climbing styles on the wall meshed as well as our friendship on the ground. We were still nervous about our goal but felt ready and more secure about taking it on.
Look out for part 2 of my Brazil Big Wall adventure to hear about our climb! Have questions comments? Feel free to send me a DM and follow me on Instagram @gretchentraut .