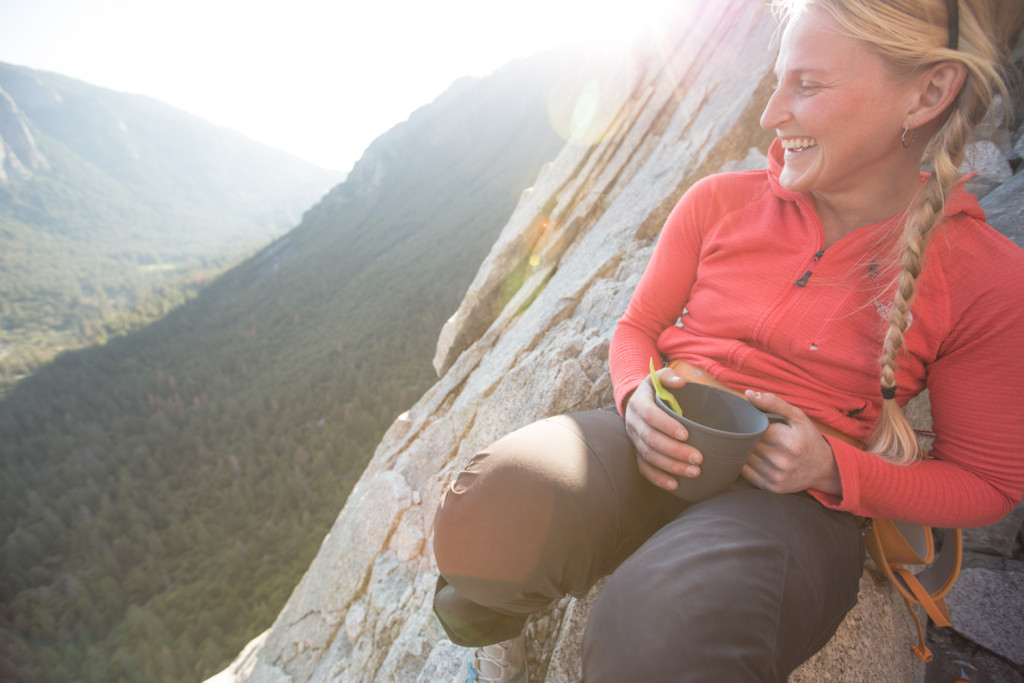 Emily Harrington started climbing the way many kids take up sports. When she was 10 years old and living in Boulder, Colorado, she tried climbing on artificial walls, loved it, and "begged" her dad to go again. She joined the junior climbing team at a local gym and began competing.
"What climbing has meant to me has changed enormously. … It went from being a sport I did as a kid to this lifestyle," Emily, now 28, said in an interview with RCW. When she was young, she had audacious dreams of being a world champion. She is a five-time national champion and a two-time North American champion. She made it to the podium in World Cups.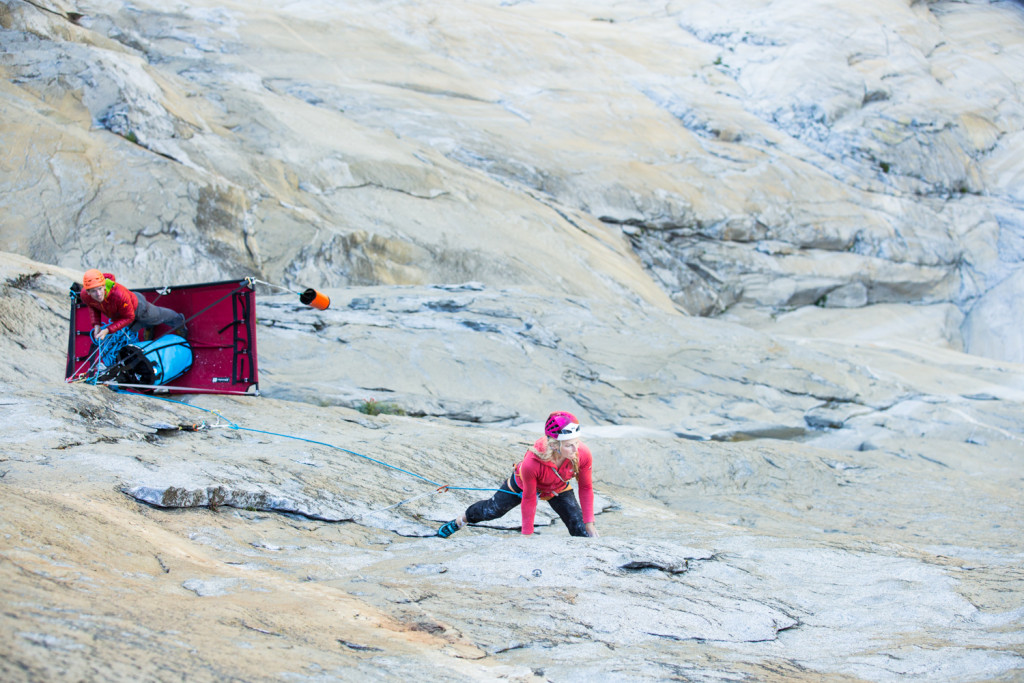 She has branched into each climbing discipline, including bouldering, sport, and traditional climbing, taking her into gyms and the high mountains. She mountaineers, too, including a 2012 ascent of Everest, where she met her boyfriend Adrian Ballinger, who is also a professional climber and a mountain guide.
Sponsored by The North Face and Petzl, Emily is a professional climber living in Squaw Valley, California. She still competes, including a recent appearance at Psicobloc.
Through RCW, I had the pleasure of talking to Emily about the sport, what it means to be a professional climber, and her impressive free climb of Golden Gate. Emily spent six days this spring on the 5.13, 40-pitch route on El Capitan in Yosemite.
Emily tells the story of the climb in a gallery of these photos compiled by Outside magazine.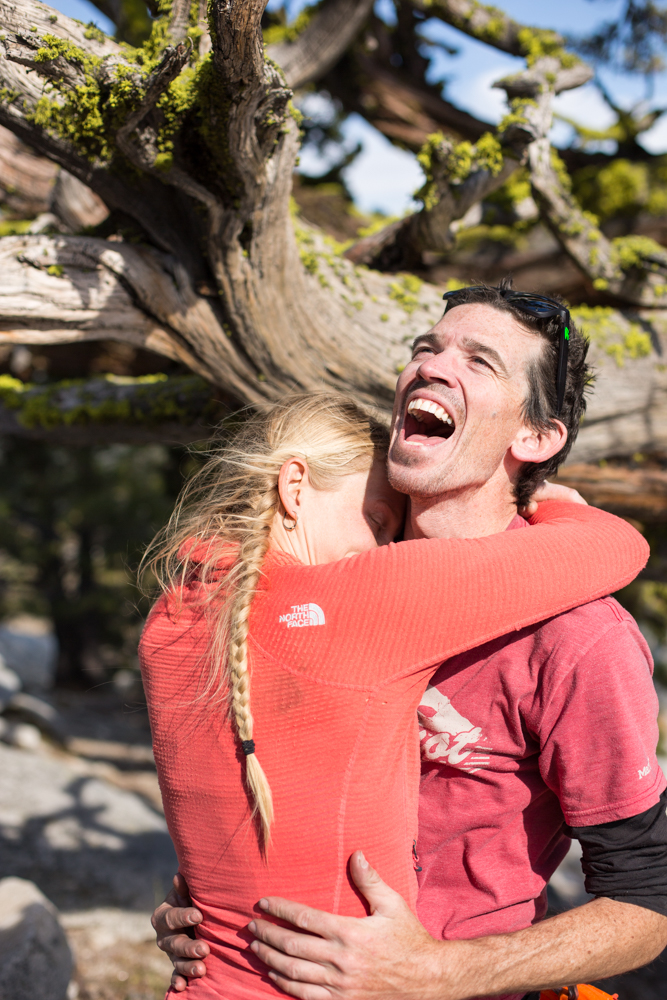 Special thanks to Jon Glassberg of Louder Than Eleven who provided photos from Emily's El Cap climb for this post.
How have you seen the sport change since you started climbing at age 10?
It's grown a lot. There's all these gyms all over the world now. Kids are able to get into the sport at a very young age. We're seeing young kids excelling very quickly and moving to the top of the sport at least in competition. I think it's becoming more specific. A lot of sport climbers might never transition to trad climbing or alpine climbing. It's grown that gym and sport climbing world. … You're seeing the young kids are becoming the best. It's becoming a little bit more like gymnastics at least in that discipline.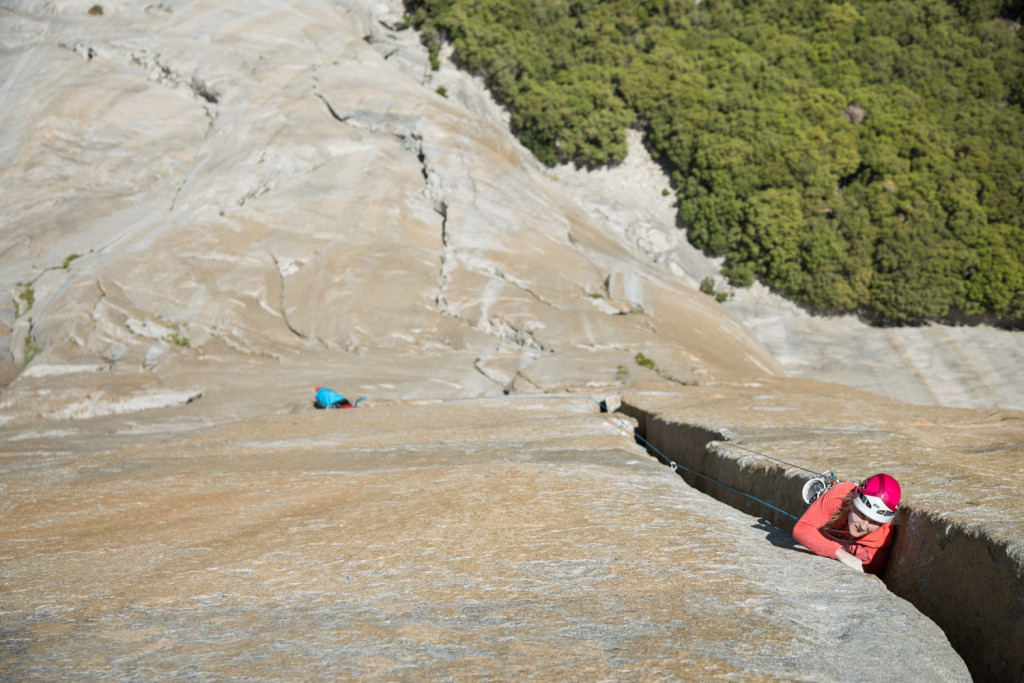 Did you ever envision yourself doing what you do?
It was gradual. I had some sponsors when I was a teenager and went to competitions. I went to college, but was still taking climbing very seriously at that time. I started studying for the LSAT – I wanted to go to law school. That was when I was approached by The North Face and asked to join their global team. … Ever since then, I guess, I've been experimenting and trying to figure out what it means to be a professional climber. It's a little bit different. It's a little bit more new. I think we can just decide the direction we want to go and that we want our sport to go. In a way, I am my own brand – I'm in charge of all the content I put out there and how I portray my self. I think it adds another element. I really like that aspect of being able to be more creative and have other skills besides just being good at rock climbing. … It's been an experimentation. I feel really fulfilled and satisfied with it.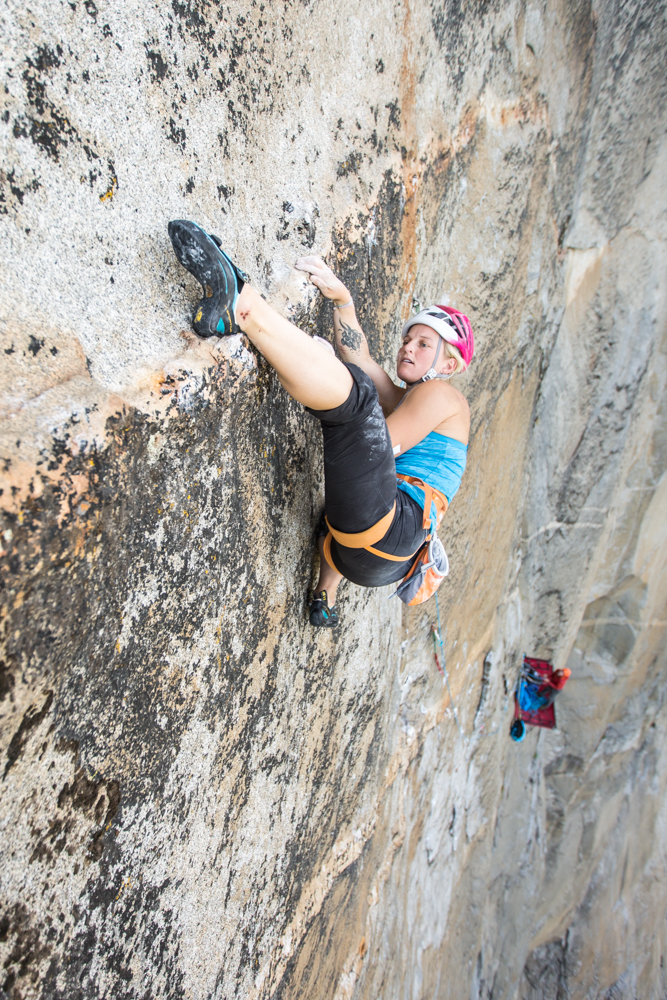 Being a pro sounds so glamorous. What's the reality?
In a nutshell – you get to follow your dream.
Being a part of The North Face, you have a lot more responsibility than (just traveling and climbing). We have to fine tune writing skills and speaking skills. We also have to be really creative. … It's all about how you tell the story. It's pretty challenging to find where I fit in in the world of professional climbing and how I can make myself unique – how to portray that. I wouldn't trade it for anything. … It's not secure by any means. There's no promise I will be able to do this in 10 years. You have to constantly be hustling and producing and … it's not like people come up with ideas for you. There's loads of good climbers. You have to be special in a way.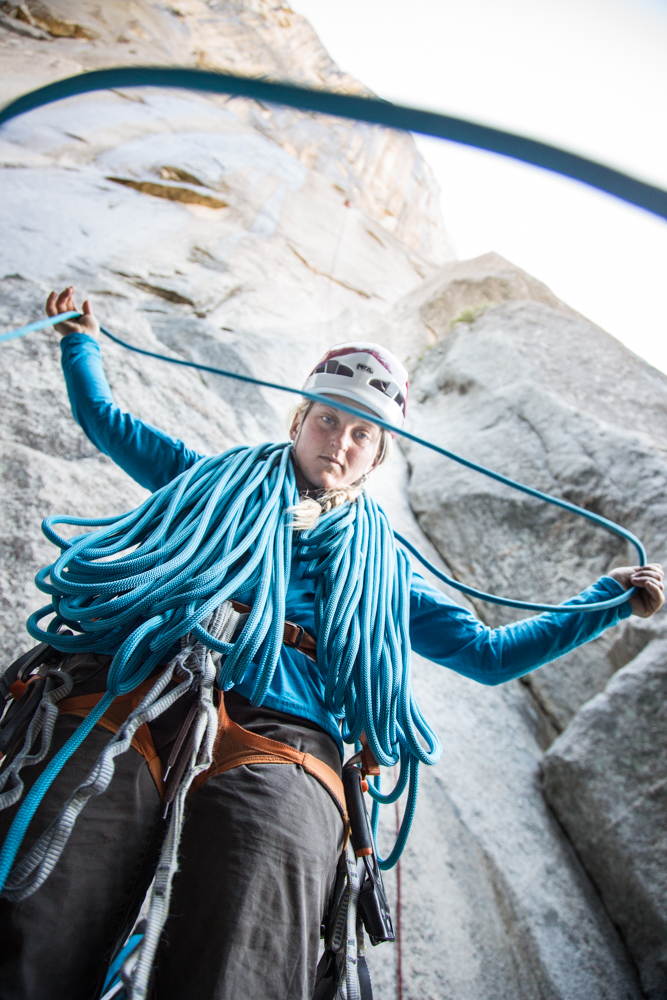 What do you love about climbing? What's kept your attention all this time?
I love the versatility of it. I love how it's a very broad term for exploring the outdoor world, particularly the mountains. I love the mountains. I've just been more and more motivated in gaining experience and gaining skills to help me become a really competent mountain athlete. I want to be somebody who can go out in any terrain. … I want to be able to enjoy the outdoors as long as I can. Climbing really encompasses all of that. It's not just a sport you can compete at – it's so much more than that. It never gets boring. It's always interesting and creative.
I climbed Everest in 2012. Everest is an interesting one. It was pretty much my very first mountaineering experience. I was pretty wide-eyed. There was a lot going on at Everest politically, environmentally. I met my boyfriend on Everest. He's a mountain guide and has climbed it six times. It was an extremely difficult challenge for me but I wouldn't say it was the most challenging thing I've done since then. It was super difficult, and I think it changed me as a person, and a lot of important things happened in my life because of climbing Everest, but I would consider it a stepping stone more than anything else. I want to climb other mountains and different mountains. I guess that's what Everest was to me.
Golden Gate was the epitome of all these skills I've gained over all these years. I knew I wanted to free clime a route on El Cap. It requires a lot of experience and a lot of skills. I spent a lot of time as a 5.14 sport climber falling on 5.9 trad and being scared. When it all came together, and I thought I was ready to try … it's the proudest achievement I have in climbing. It was more personal than everything. It was really important for me and for my progression as an athlete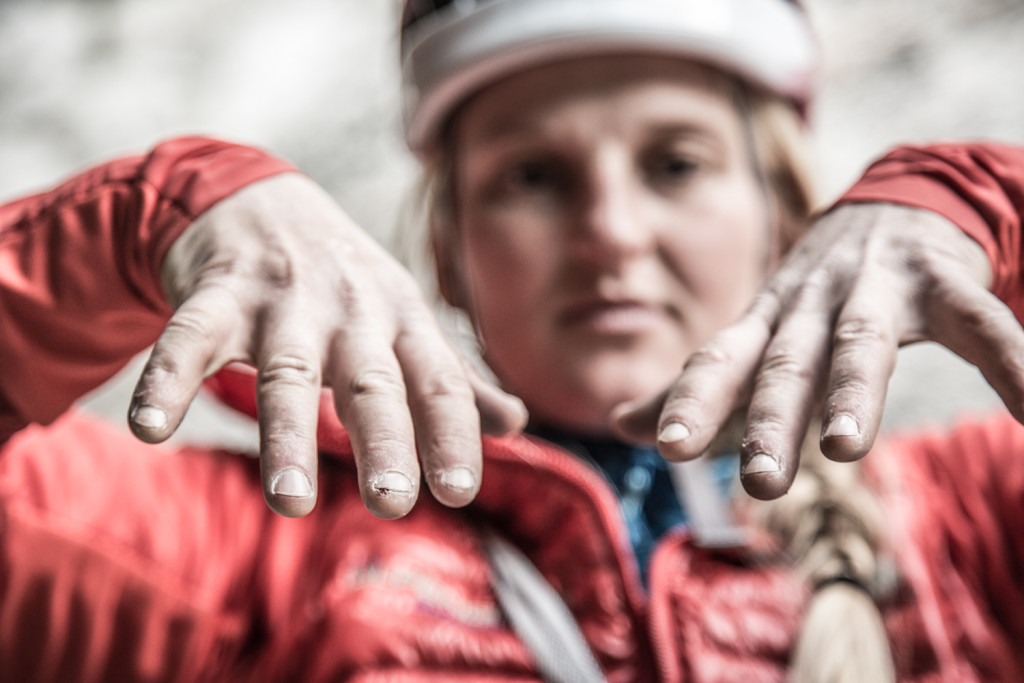 You have a great video that shows all those raw moments during your free climb of Golden Gate. I really enjoyed that. Was it hard to watch afterward? How do you feel about the climb now?
Those were pretty private moments. I think most people experience them. But sharing it with the world is definitely a little bit new and intimidating. It was really honest and I'm proud of that. I'm really grateful for the feedback I've received. I think Jon did an amazing job. I think he did a really good job of telling my story – that's exactly how it was up there. There's only a limited amount of supplies you have up there and limited time and energy. It's a really stressful situation. I'm really proud that I was able to push through it and, in the end, succeed.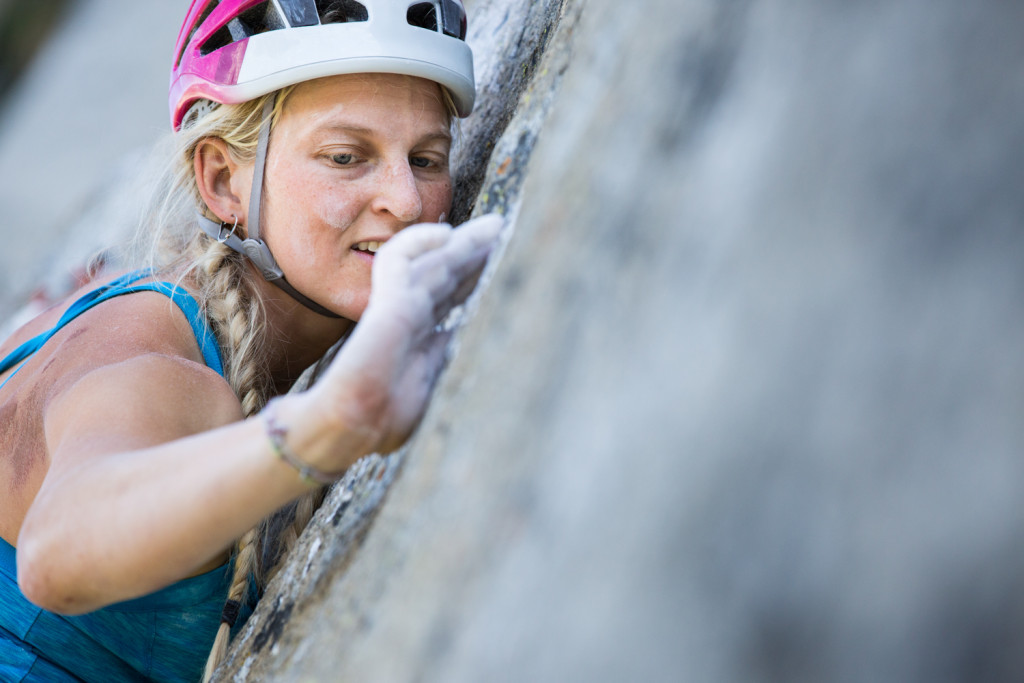 You had a team of people up there with you but did it feel at all lonely being the only one free climbing?
I didn't feel lonely because I had a team up there with me. I felt a lot of responsibility because I was the only one up there free climbing. Everyone said no pressure … but I did feel pressure because it was my thing. That was a little bit isolating. No one did anything to make me feel that way but I felt like there was a lot on my shoulders. There was no situation where if I didn't want to lead something that my partner would come up and lead it. That felt a little bit more intense. But I knew that going into it and I was prepared for it.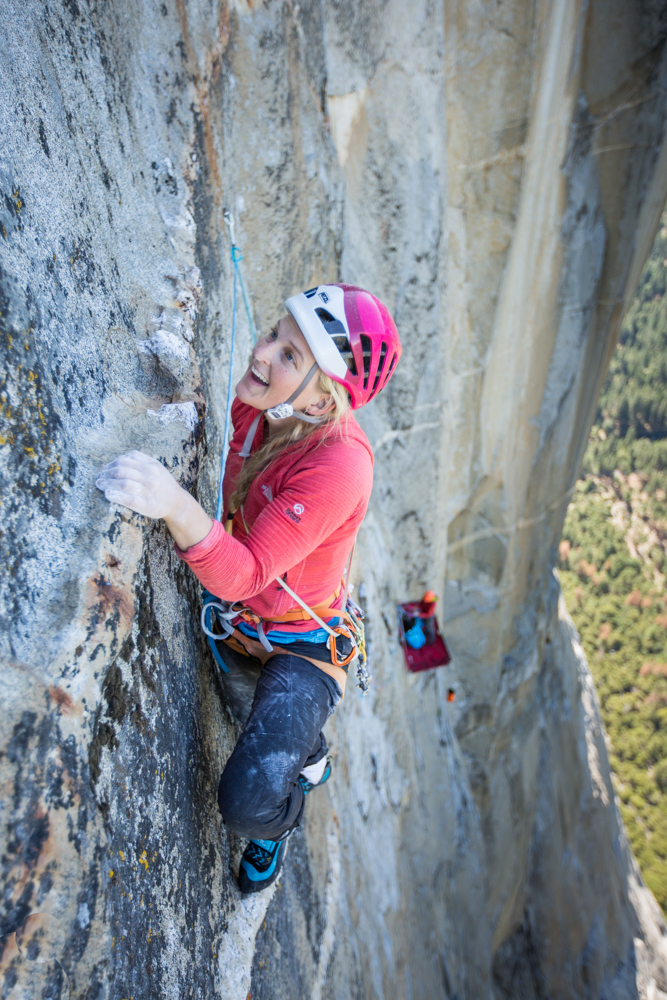 Do you have your eye on other big wall climbs? What's next for you?
I definitely do. I'd love to go back next spring. I'd love to go back to Yosemite every season. There's a lifetime of climbing on that one wall for me.
I'm headed to Nepal in the fall to try Makalu (the fifth highest mountain in the world). I'm going to bring my skis. I also love going sport climbing because it's fun and easy and mellow and low stress. … It's not easy – it's super hard – but the logistics are easy. I'm hoping to ski in the winter. I like to organize my year and constantly be changing it up because it keeps things fresh and keeps my mind motivated.
I've been a skier since I was 2. I actually raced for two years before I started climbing, but then climbing definitely took over. Adrian a big skier and I've picked it up again. …
I just got back from Ecuador where we were trying to climb and ski volcanoes. In the end we failed to climb and ski because we had just crazy winds and whiteout conditions. … We didn't climb anything and we didn't put our skis on. That's how it goes in the moutanins sometimes. It was a great trip, actually.
Outside magazine called your Golden Gate climb "one of the more impressive climbs in women's climbing history." What do you think of that statement?
It's a pretty bold statement. And obviously that's journalism for you. I think in the grand scheme of things it is a valuable ascent in women's climbing. There aren't that many women who have free climbed El Cap. There aren't that many who have done it the way I've done it, leading every pitch. I'm super proud of that. I don't want to take anything away from any other women. It wasn't the hardest. It wasn't a first female ascent. I definitely think I joined an elite group of women who have put effort into gaining that level of experience. I think it is a pretty valuable ascent in women's climbing history, but it isn't the most.
Do you have any thoughts on the present/future of women in climbing?
It's such a diverse sport that caters to so many strengths. I think women are going to continue to excel and push limits. I'm not going to say they're going to catch up with men or that it's a competition. There are strengths that women have that are different than what men have. It's been cool and motivating and exciting to see young girls coming up, like Ashima Shiraishi, the 14-year-old who's crushing it for men and women. That's super rad. I think we're going to see more of that.
I just hope I can be a good role model for those girls who are coming up and are going to push the limits more than I have. I think it's a great sport for girls.