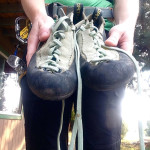 I'm a moderate-grade rock climber who climbs mostly outside on routes with very few "balance on a quarter" moves. I like cracks, chimneys, slabs, off-widths, and I get them all on nearly every alpine route we find. So when I needed a new pair of shoes, I picked La Sportiva Mythos.
I bought a new pair of climbing shoes at REI during the annual membership sale using my dividend. When I first got into rock climbing, the store in Minnesota had only one option in women's shoes – that starter pair that also were for rent at the university climbing gym.
When buying my second pair, I was in a different state, and the choices were numerous. I'd been climbing for a few years and I knew I needed something that wouldn't stink so bad and wouldn't cause distracting pain during long days on multi-pitch routes. I also knew I didn't need a super aggressive shoe.
I chose La Sportiva's Mythos – a gorgeous suede leather shoe with Vibram rubber. The climbing gear guy at the store explained the laces to me. They wrap around the heel before going up to the toe and lacing down the top of your foot. This, supposedly, helps each climber get the perfect fit from the same pair of shoes.
I didn't have the luxury of a local climbing gym, but I could drive an hour to the same city where I purchased the shoes to break them in. I did this once before our vacation to Colorado where we planned for long alpine climbs in Rocky Mountain National Park.
After arriving in Estes Park, we decided to start on Hallett Peak – the featured view at the end of the Bear Lake Trailhead. It's a short approach: A couple miles of trail, then some boulder hopping. We suited up and reached the base of the climb, and I remembered I hadn't really broken in the shoes on my feet. I don't take my shoes off on the wall because I did that one time and dropped one off the third pitch (luckily some great people tied it to the end of our rope and returned it to us). I figured I was in for a rough day foot-wise.
Only I wasn't! Eight pitches of varied climbing on Love Route (5.9), and my feet felt great. Not only that, but I never worried about slipping and I could feel the rock the way I like. Jamming in cracks or finding purchase on small holds was doable. They're versatile, which is exactly what I need.
I will note that the comfort didn't last when it turned out we had to hike down instead of taking the scramble descent due to weather. I was happy then not to have the kind of shoe that must be removed upon reaching the next belay station. In a pinch, I could keep moving. Though, if such a pinch were foreseeable, I would maybe opt to bring my trail shoes next time, just in case.
---
Where can find the Mythos online:
La Sportiva ($140)
Backcountry ($112-$140)
Amazon ($140)