By Teresa Wasiak
I dated a guy quite a long time ago who "climbed." He is the one who introduced me to climbing, which consisted of him and his best buddy setting up a top rope and getting a bunch of people (usually girls) together to come out and give it a try. I gave it a try and I was hooked.
While we were dating, he kept talking about learning how to lead sport or trad climbing someday but didn't feel confident enough with his partner. While he was visiting family in Oregon, he hit a huge going out of business sale on gear and bought a bunch of stuff. I didn't know what any of this was at the time but I remember the HUGE pieces of metal on his apartment living room floor.
We eventually broke up, and I was more devastated about losing a climbing contact than a boyfriend. Who was I going to climb with!?!?!
Eventually, I made plenty of new friends and eventually those friends introduced me to trad climbing.  Particularly multi-pitch trad climbing in Tahquitz. Whoa, was I HOOKED!! After one extra stellar weekend in Tahquitz, I recalled all that beautiful metal in my ex-boyfriend's living room. Knowing he never did anything with it, nor did he climb any longer, I made a call. It went something like this:
ME: Hey— so I just learned about all that gear you used to talk about and I was wondering if you still had it.
EXCLIMBERGUY: Oh, yeah
ME: Any chance I can borrow it? I think I want to learn how to lead and would love to practice placements before buying my own gear.
EXCLIMBERGUY: Right on! But let's be clear it's the L word…
ME: Huh?
EXCLIMBERGUY: It's a LOOOOOAN (BIG emphasis on the O)
ME: That's what I said.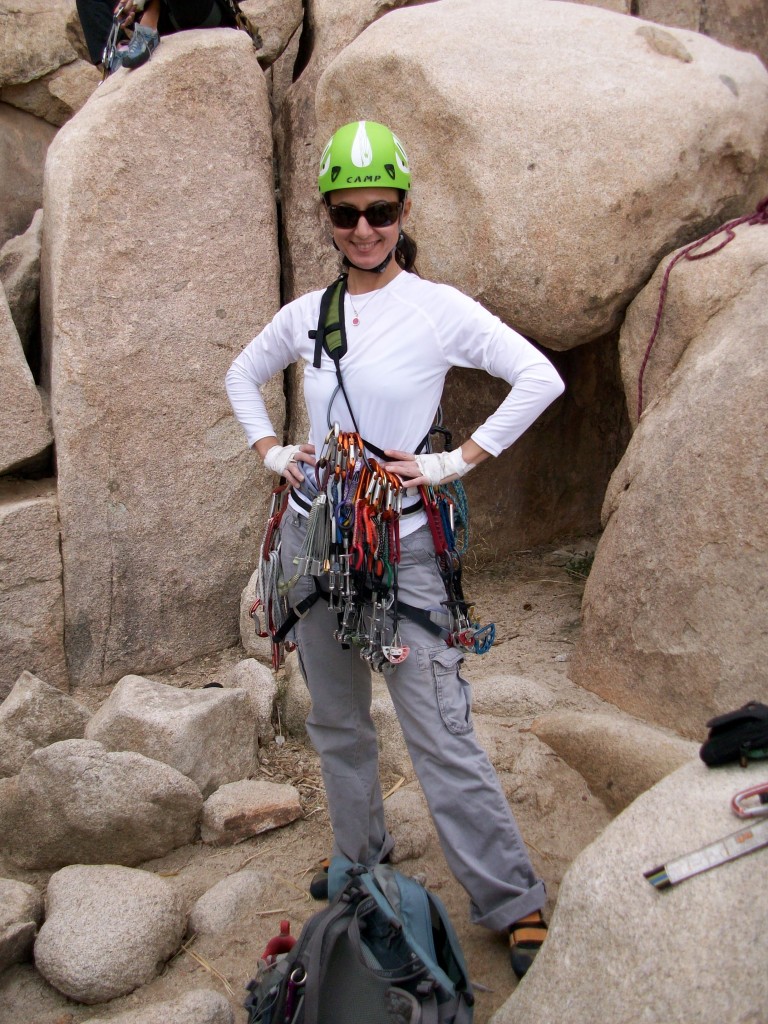 The conversation ended pretty promptly after that and I was like, whatever, I'll buy my own gear (ladies, there is a lesson in that story). I then talked with every trad climber friend and asked their advice and tinkered with their gear. I decided I was not a fan of Black Diamond C3 pieces as I found them stiff to use, but adored the .50 and up. While Aliens and Friends were not on the market at the time, I decided on Metolius Mastercams for my smaller gear; the 00 piece is still one of my favorites. I did serious price comparison online and eventually procured the most beautiful rack and slings ever to be owned. I adored my gear and used it A LOT!!! J-tree is where I learned the majority of placements and broke in my cams. The mastercams were an excellent choice for J-tree's gritty granite.
Eventually, I met my husband (to be) at Joshua Tree and I hauled my life to Las Vegas to plan our wedding. I always maintained a good friendship with the ex climber guy, and when he learned of my engagement, he called me…
EXCLIMBERGUY: Soooooo, I'm never going to use that gear.
ME: You want to sell it? You should post it on Mountain Project.
EXCLIMBERGUY: Nah, I don't want to bother. I'll sell it to you. You can have everything.
ME: What do you have and what's the price?
EXCLIMBERGUY: A 4-pack of Murphy's beer sounds about right. Come check it out.
ME: (silence)
EXCLIMBERGUY: (silence)
ME: Seriously? Let me take you out for dinner at least.
EXCLIMBERGUY: Sure, burgers sounds great.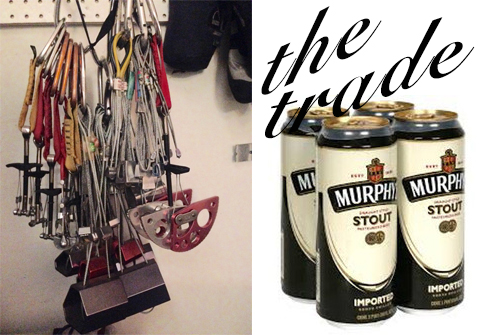 That night, he gave me about four Black Diamond cams (C3's which I now LOVE), I think two Metolius cams, a bunch of nuts, BUNCHES of hexes (small and ridiculously big), and a 4.5 Black Diamond Cam (still haven't used the damn thing because it's just too purdy and pretty much the same size as a #5) and a gear sling. You can never have too much gear.
We invited him to the wedding.