You've picked out the shoes, harness, and chalk bag that are right for you and you're feeling fancy. You've also put in enough mileage on top rope that you've got some muscle memory and those 10s don't feel nearly as daunting as they once did. Maybe you're ready to take your love of climbing to the next level: lead climbing.
For many of us, the idea of lead climbing can be very intimidating, especially if you've seen folks taking what look and sound like big falls from the lead wall at the gym. When I first started climbing, I would watch people working their projects on lead and think to myself "no way will that ever be me."
Then I found out that my gym offered a lead climbing class with a fantastic instructor. I had taken a six-week bouldering course with this instructor and felt very comfortable with her. She had a calm demeanor, explained things thoroughly, and never made me feel silly for my questions or for being scared. I decided to go for it because you never know until you try!
What I discovered through this experience is that, while I did learn important concepts about lead climbing, I was really learning how to be a confident, competent, and safe lead belayer. I think that without the perspective of my role as a lead belayer who safeguards the climber, the idea of lead climbing would have continued to be absolutely terrifying.
View this post on Instagram
It turns out that there are two very good reasons for why you want to be an amazing lead belayer. The first is obvious: you are responsible for your partner's safety when they are on the sharp end. The second reason has emerged now that I am well versed in the dynamics and principles of lead belaying. I can identify other awesome lead belayers and feel confident when it's me on the sharp end.
Since then, I have caught tons of lead falls and even taken quite a few of my own. I have pushed myself to grades I never imagined would be possible for me because I trusted that my belayer was attentive and amazing and would catch me if I didn't quite stick that crux move.
Similarly, because I have put in the time and effort to become a knowledgeable lead belayer, I've had the opportunity to follow some pretty amazing lines after providing a solid lead belay. Many of these adventures would have been out of my pay grade as a lead climber but I got to experience them because I had the skills to make sure my partner could safely make it to the anchors on lead.
Trust is key in lead climbing and a cornerstone of that trust is demonstrating that you are a confident, competent, and safe lead belayer, aka AMAZING.
View this post on Instagram
Now the how…
If lead climbing is in your sights, the first thing you'll want to do is sign up for a lead climbing course. Many gyms offer courses or can at least direct you to a reputable guide. Here is a list of the cool things that happen at a lead climbing course:
Learn about the forces at work when you catch a fall or take a fall.
Become (a little) more comfortable catching and falling with guided practice.
Gain awareness of common mistakes to avoid like z-clipping, back clipping, or having the rope situated behind your leg when you are on lead.
Get your burning questions answered: What does it mean for a quick draw to be rated to 22kn? What do I do if my partner weighs significantly more or less than me? What length and diameter of rope will I need for gym climbing vs. outdoor climbing? Should I buy a Grigri? Why is it important to flake my rope and what does that even mean?!
New climbing friends!
View this post on Instagram
After your course, get over to the lead climbing wall with your new climbing friends and start lead climbing and lead belaying. Get lots of mileage in as a belayer with your tubular belay device so you can become comfortable with the dynamics of feeding rope and catching falls.
As you continue on your lead climbing journey, here are some tips and tricks to up your game along the way:
If there is a significant weight difference between you and your partner, consider checking out Edelrid's Ohm. This nifty piece of gear creates extra friction on the rope so that when the climber falls, the lighter belayer will not get pulled up towards the first bolt. My gym loans them out, so it's definitely worth asking about at your local gym (or during that lead climbing course). This way you can try it out before deciding if you want to add it to your collection.
Diversify your devices. Once you're comfortable with a standard tubular belay device. Try an assisted braking device like Petzel's GRIGRI or Edelrid's Mega Jul. Many people ultimately prefer belaying with assisted braking devices because they create an extra layer of safety (for more on this, check out our article Essential Rappelling Gear: Belay Devices). It is important to note that assisted braking devices involve different mechanics that you are going to have to really think about at first. For this reason, I really encourage you and your partner to climb well below your comfort level while you make the new motions part of your muscle memory. The first time I attempted to lead belay with a GRIGRI, I was completely unprepared for how different it would be from a standard tubular belay device. Suddenly, I found my partner and myself shouting in frustration and fear at each other as they tried to clip but I was unable to feed the rope. I've seen this same turn of events play out over and over again for other folks as well. Seriously, find time to have fun and practice until it all makes sense to your brain and your hands.
If you're heading outside, wear a helmet. A helmet can save you and your partner. If your partner takes a bigger than anticipated fall, a helmet protects your face and head when you get pulled into the wall. Likewise, if your partner pulls off a piece of loose rock, you stand a better chance of not getting knocked out if you are wearing a helmet.
Tie a knot at the other end of your rope before anyone hops on the sharp end. It's never ideal when you discover that your rope is too short for your climb but tying a knot keeps a less than ideal situation from becoming catastrophic.
Practice clear and concise communication, using your loud and strong voice AND your partner's name. This goes for both climbers and belayers. It might feel silly at first but it's easy to get confused at the gym when folks around you are yelling "take!"
View this post on Instagram

Now that you have a roadmap for how to become an amazing lead belayer, find that local lead climbing class and learn some awesome new climbing skills! You can also sign up for our newsletter for more about gear and getting off the ground.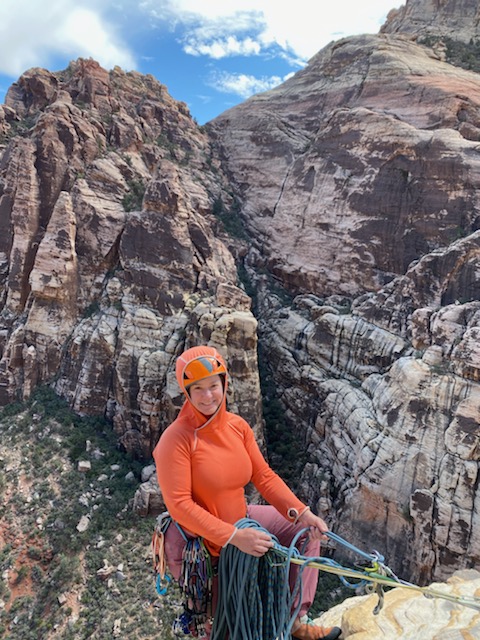 Jenny Nichols got her climbing start in Flagstaff, AZ in 2007. Today she lives in Seattle, WA where she works as a K-12 teacher. While she also dabbles in mountain biking, hiking, and kayaking, her passion is to combine climbing and international travel. To date she has climbed in thirteen different countries. She's currently also learning how to woman a sailboat.